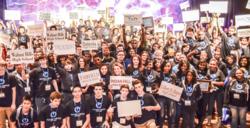 I had dropped Computer Programming at my school last week, because I thought that being in technology just wasn't for me. You've re-inspired me and I put programming back in my schedule.
Cincinnati, OH (PRWEB) March 12, 2013
More than 500 students from 39 regional high schools moved into the Millennium Hotel late last month for three days of give-and-take exposure to the exciting variety of potential careers in the fields of science, technology, engineering and math (STEM).
The conference, dubbed "TechOlympics Expo 2013," was presented by The Kroger Co. and the INTERalliance of Greater Cincinnati, a local non-profit that, since 2006, has been encouraging high school students to explore and consider STEM and IT careers.
With a like number of volunteers from area companies and startups, students were treated to stimulating breakout sessions on subjects ranging from launching a new tech company to learning the secrets of the latest hardware and software programs. Students were also interviewed by HR professionals from GE.
Additionally, presentations by local business leaders helped place STEM careers in broader economic context. Tim Schigel, founder of ShareThis and currently fund of funds manager for startup incubator Cintrifuse told the students: "It's up to YOU how Cincinnati fares in the global market." Lori Beer of WellPoint dazzled the students with how IBM's Watson and WellPoint have partnered to use the smartest computer to take on some of the world's toughest health problems.
Jim Scott, INTERalliance Board chair, explained how a career in STEM is about as recession-proof a career as you can get, while Marianne Lewis, Associate Dean of the Lindner College of Business at UC, made a compelling case for finding success by finding your passion and following your dream. Cindi Kornegay, chief operating officer for the managed services business of Atos in Mason rendered it all down to blending work and play, quoting James Michener who admired those who "pursues their vision of excellence at whatever they do, leaving others to decide whether they are working or playing. The satisfied person is always doing both."
Some of the most compelling testimonials came from the participants themselves. From Nick Seifert, student at St. Xavier High School: "I now know how to nail a job interview, start a business, and 'electrify' employers with the traits that I have learned exemplify an outstanding employee. And on top of all that, I got to meet face-to-face with people who currently hold the jobs that I hope to fill in the future!"
From Olivia Knestrict, student at William Mason High School: "I had dropped Computer Programming at my school last week, because I thought that being in technology just wasn't for me. You've re-inspired me and I put programming back in my schedule."
And from Andrej Kyselica of Microsoft: "After meeting and talking with these bright kids, I always come away from events like this feeling better about the future of our country and world."
Concluded Doug Arthur of Atos and Executive Director of the INTERalliance, "We have never seen the community come together quite like this to encourage and connect our amazing young people with technology! This level of support is why the future of Cincinnati is in good hands!"
Companies interested in participating in this program should email or call Doug Arthur, Executive Director, at doug.arthur@interalliance.org, 513-378-2172.
###
NOTE TO EDITORS: The following organizations provided volunteers for the EXPO:
P&G, Atos, Ascendum, Cincinnati Bell Technology Solutions, the Cincinnati CIO Roundtable, Fifth Third Bank, dunnhumby, KnowledgeWorks, Great American Insurance, GE, Cisco, ITA, Ricoh, Cincinnati Insurance Companies, CSC, Dell, EMC, Focal Point, HP, IBM, Kao USA, Microsoft, Paycor, Pomeroy, Tata, Verizon, TopCoder, Cintas, CincyTech, FirstGroup America, Messer, Multi-Color Corp, Toyota, TQL, Xerox, Rockfish Interactive, WellPoint, Viable Synergy, and Western & Southern Financial Group.