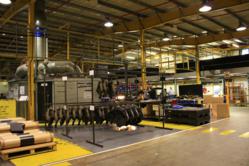 We firmly believe that the only way to get on in a challenging economic climate like this one, with its static market, is to provide a superior product and service to our customers
Chesterfield, UK (PRWEB UK) 13 March 2013
TMAT Ltd - the multi-national manufacturer of acoustic components for tractors and excavators - has revealed details of a record start to the year in which it has created close to £2million in sales in January (£1million) and February (£900,000), smashing its own budgeted sales target for 10% growth by a further 10% in each month.
These figures come in spite of the Monthly Business Surveyby the Office for National Statistics reporting today that the seasonally adjusted index fell by 2.9% in January 2013 compared with January 2012, with a 3.0% fall in UKmanufacturing.
TMAT says that an OEM (Original Equipment Manufacturer) similar to existing customers such as Case, New Holland Tractors, JCB, and Volvo that it has not previously supplied has asked for an RFQ (request for quotation).
All of this has occurred in a market that TMAT'S MD, Jason Lippitt, himself describes as 'stagnant' - as the Office for National Statistics' report suggests - andwhich has seen an increase in intense competitor activity and aggressive pricing.
Jason was bullish, saying: "TMAT doesn't compete on price, and we won't cut prices or even match them to those of our competitor. If that means that we lose one or two customers along the way, then so be it.
"We firmly believe that the only way to get on in a challenging economic climate like this one, with its static market, is to provide a superior product and service to our customers. The record January and brilliant start to the year we've had is testament to the validity of that approach, because that is what customers really need."
TMAT currently has a sales pipe line of some £4.5million and recently announced plans to expand into Brazil, setting up a factory there in anticipation of the planned infrastructure overhaul in the country ahead of the 2014 World Cup and 2016 Olympics. TMAT will retain engineering design and intellectual property at itsChesterfield site and believes that the Brazil opportunity could well create furtherUK jobs as its work in Brazil generates more demand upon specialist engineering resources.
TMAT is rare for having been one of the businesses that has thrived during the economic downturn. Its growth has risen from £5m per year to in excess of £10m since 2009 and TMAT aims to drive turnover to more than £20 million by 2015.
TMAT designs and engineers innovative solutions to Noise, Vibration and Harshness for ACE (agricultural, construction, earthmoving) markets that it feels are the best in the industry.
Ends
Contact:
Rory ffoulkes, Lexicon Public Relations Ltd
Email: rffoulkes(at)lexiconpr(dot)com
Tel: 0845 456 2106