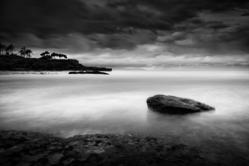 "No matter how expensive your photography gear is, having a good imagination is essential"
Bratislava, Slovakia (PRWEB) March 18, 2013
Matej Michalik discovered his passion for black and white photography in 2010 right after he bought his first camera. He began observing the work of the finest art photographers, whose work interested him tremendously. He started communicating and exchanging experience with them, so this is how it all started.
Recently Matej created a website, where he presents his best black and white photos in his own blog and shares the experience he gained including the post process techniques and tutorials. You can also find here some background stories about the origin of some of his photographs and about the vision he had at the moment he was pressing the button.
His work started heading quickly towards architecture, landscape and street photography as well. His first architecture photographies won the second place in Bratislava Slovakia, where he lives and also he obtained a Honorable mention in the 2012 International Photography Awards annual competition. "It is a great feeling when your work is noticed by others at home but also abroad, it gives you a lot of energy, enthusiasm and moves you forward," says Matej Michalik.
He usually uses a digital camera, although he works with darkroom-inspired features in the post process. Many photographers of this genre can already recognize his handwriting from a simple look at the photographs. He believes that when a photographer brings his passion into photography, has his own vision, his signature is engraved in the photographs and he becomes an artist.
His black and white photos undoubtedly have an artistic touch. It is also thanks to the fact that when taking pictures of architecture and landscape, he often uses long exposure photography techniques. This gives his photographs a unique look.
The composition is based on minimalism, which is particularly popular in black and white photography.
If you would like to get more information about his work, visit his website dedicated to Black and White Photography or follow his work on social media.
About:
Matej Michalik is a fine art photographer, focused on black and white photography of landscape and architecture. Subscribe to Matej Michalik's blog for current tutorials and post process techniques he presents on his website.