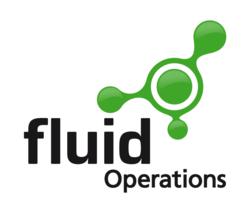 Walldorf/Baden, Germany (PRWEB) March 13, 2013
fluid Operations today announced the availability of an innovative platform for cloud automation and semantic data management: the fluidOps Platform.
Cloud automation and semantic data management
The fluidOps Platform allows the semantic integration and flexible correlation of structured and unstructured information across business and IT stacks. The system uses an extensible pool of providers and supports the definition, customization and automation of cloud and data workflows and processes. It can also be used to develop customized solutions to meet specific user requirements.
Innovative semantic data and cloud management features and a flexible, data-driven user interface provide the underlying technologies that are the key to the Platform's power. Using the Platform, customers can automate Cloud and Big Data processes and workflows, add transparency to all aspects of their business, innovate new services for end-users and drive corporate objectives.
"Our semantic integration platform provides powerful technologies for next-generation cloud and data management. It also opens up many opportunities for customers and partners to develop innovative solutions on top", said Dr. Andreas Eberhart, CEO fluid Operations.
The Platform's open API allows easy integration with third-party solutions, while the use of semantic web standards such as RDF, OWL and SPARQL guarantees high flexibility and interoperability. Using the fluidOps solution development kit and the flexible, data-driven user interface, fluidOps partners will easily be able to develop and build new solutions and apps for different industries and customers. More information about the fluidOps Platform can be found at http://www.fluidops.com/
Key products get a major overhaul
To accompany the introduction of the Platform, updated versions of the company's key software applications are also being released: eCloudManager 5.0 and Information Workbench 2.5, both of which are based on the fluidOps Platform.
In combination with other technologies such as virtualization, cloud computing and Web 2.0/3.0, eCloudManager is designed to smoothly monitor, manage and orchestrate enterprise-level infrastructure and cloud resources. The Information Workbench provides easy management of Linked Data and Big Data in the cloud and enables the development of new Linked Data applications. Combined, the two products help customers to flexibly optimize information management, data integration, self-service IT, IT operations and IT service management.
eCloudManager 5.0
eCloudManager™ enables users to build and manage flexible and scalable enterprise-level cloud environments. This innovative tool provides an overview of the entire data center, including storage systems, physical and virtual compute infrastructure, networks and applications. In this way, eCloudManager creates a true "IT as a service" environment. This allows end-users to consume everything from compute resources (Infrastructure as a Service), to storage resources (Storage as a Service), to complex, multi-tiered enterprise application landscapes (Landscape as a Service™) and service extensions in a cloud-like manner. eCloudManager also easily performs functions like license management, documentation, collaboration, analysis and reporting.
The revised product version integrates new providers to support EMC® VNXe® storage systems and additional hypervisors, and delivers a new, use-case-oriented and user-friendly graphical interface.
Information Workbench 2.5
Information Workbench™ enables users to manage Linked Data and Big Data in the cloud and to develop their own customized business applications. Media companies, publishers, IT enterprises, healthcare centers, public institutions and life sciences companies are already using Information Workbench to gather and enlarge knowledge bases, conduct semantic searches across the entire database and perform business intelligence and analytics, data visualization and exploration.
The new version of the Information Workbench brings enhancements targeting particularly the usability and the user experience of the platform. The new features of the triple editor facilitate ontology driven editing and authoring, and include XML datatype validation, specialized visualization components for particular datatypes (e.g. a date picker) as well as cardinality support for properties. In addition, the Information Workbench now provides functionality for ad-hoc search result analysis (i.e. query persistence and visualization of query results in dashboards using data type dependent visualization widgets) as well as an integrated user interface for ontology driven editing. Besides the focus on the user experience, the new version of the Information Workbench brings multiple enhancements to the core of the platform, including hybrid search enhancements, basic authentication support in the SPARQL endpoint and diagnostics capabilities.