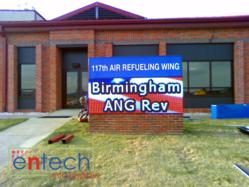 "We give 100% to every project. Whether it's GSA or a local church,our goal is to be their single source for LED signs, installation and support."
Joel Bagley, Entech Signs
Birmingham, AL (PRWEB) March 13, 2013
Travelers at Birmingham International Airport may notice a new LED sign as they taxi on the runway, shared with the Birmingham Air National Guard Base. This is one of three LED signs recently installed to help enhance communications, security notifications, and welcome military VP's arriving at the home of the 117th Air Refueling Wing, 109th Evacuation Hospital, and other attached units. The signs were provided by Texas based Entech Signs and replaced two aging LED units, with a third unit delivered on short notice after the project was nearing completion.
Birmingham Airport has operated as a commercial airport since 1940 and as a joint civil/military airfield beginning in World War II. It currently hosts a fleet of KC-135 tanker aircraft that re-fuel fighters during long missions. Communication and security are always top priorities in base operations, but the existing LED signs were not performing as expected.
"Originally they ordered replacements for the monument signs near the hospital and runway." said Joel Bagley, VP Operations at Entech, "But they decided late in the project that an additional unit at the guard shack was needed."
The base asked Entech if they could produce the additional unit on short notice, and still hit the scheduled installation date. The original LED signs were nearing completion, and had already shipped to the ID fabrication facility for the final build. Fortunately, Entech was able to get the extra LED unit produced and shipped just in time..
"We worked with the staff at the factory to expedite production on the new unit and drop shipped it directly to the site." explained Bagley, "The base was impressed with our ability to do this and it kept the project on schedule".
Headquartered in Grand Prairie Texas between Fort Worth and Dallas, Entech has been providing LED signs and visual solutions nationwide for close to 30 years. It's a family owned company, and has been a trusted GSA supplier for over a decade with an impressive list of successful Federal, State, Military, and Local government projects. They also provide LED and LCD solutions to other industries including schools, churches, retail centers and small businesses.
"We give 100% to every project" said Bagley "Whether it's GSA or a local church,our goal is to be their single source for LED signs, installation and support."
Entech flew out a representative to oversee the installation, setup communications, and provide software training and support for the signs. Despite the tight timeline, the project was completed on schedule without any major setbacks.
"The installation went smoothly and communication was great at all levels. We ran into some issues while integrating the signs into the military's network but with on-site technical setup and support we were able to resolve all issues and insured that all of the customer's expectations were met." said Roger Tien, Integration Technician for Entech. "They loved the new signs and intend on taking full advantage of the new features, and capabilities these LED Signs offer."
The central office controls each LED sign through fiber optics using Entech's powerful LightSpeed™ software to manage and schedule the sign content. LightSpeed™ allows users to create rich dynamic content with advanced scheduling features, but still retain a simple to use interface. The signs are powered by Darwin™ industrial grade control systems, incorporating Solid State technology and heat dissipation techniques for consistent performance of the sign under any conditions.
The base will be using the signs for a variety of tasks including current security levels, ID check status, welcoming guests, and announcing base wide events. The updated technology will help get these messages out more quickly, efficiently, and with more clarity than ever before.
"We are always proud to support our troops." said Bagley, "We appreciate the hard work they do for our country and hope the new LED signs can help make that job a little bit easier."
-
Entech Signs is a Texas based visual solutions company specializing in providing LED and LCD products nationwide. They are a trusted GSA supplier operating in a variety of markets including retail, church, educational, professional and financial. They can be reached at 1-800-383-8163 or on the web at http://www.alpha-led.com