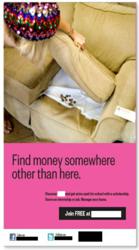 Waltham, MA (PRWEB) March 12, 2013
Recently, the Wilde Agency's Lianne Wade and Harmony Kiernan were invited to speak at the Direct Marketing Innovations Symposium, hosted by the New England Direct Marketing Association (NEDMA) at Bentley University in Waltham – right down the road from the Universal Wilde and Wilde Agency headquarters. The event took place on February 26th, was attended by about 60 marketing professionals from near and far, and received exceptional feedback. The Symposium focused heavily on integrated/multichannel marketing – which is what the Wilde Agency is all about!
In a world where consumers and businesses alike see hundreds, or even thousands, of marketing messages each day, it has become increasingly important to reach your target audience through a variety of strategically-chosen channels. That's why Kiernan and Wade's session covered a successful, highly-integrated marketing campaign that the Wilde Agency did for an online financial program that one of their clients recently launched.
The online program is a tool that helps college students and alumni build real-world money skills to better manage their finances, and it is funded by universities who choose to participate. One challenge was that it had to appeal to both a B2C and B2B audience. The B2C audience was the students and alumni that would be using the program and the B2B audience consisted of the school administrators who would be implementing the program at their university.
During their session, Kiernan and Wade took the attendees through the process of how the Wilde Agency launched this successful campaign using a variety of channels for these two distinct audience – from print advertising to web to email marketing to social media – combined with human behavior triggers. The "Found Money" campaign used familiar situations (such as finding loose change under the couch cushions) to show how the client's online tool would make it easy for students and alumni to find ways to finance their education and stay out of debt – that is, find money. Eye magnet words such as "free" also contributed to the success of the campaign.
Through the Wilde Agency's campaign, the client met their goals, and has seen growth and increased activation from students and universities alike. Market research through online platforms like Communispace has shown positive feedback and proves that the "Found Money" campaign resonated strongly with the audience. The Direct Marketing Innovation Symposium attendees responded very positively to Kiernan and Wade's session and left with a better understanding of the role of integrated marketing and the science of human behavior in successful campaigns.
About Wilde Agency: Wilde Agency is the direct and digital agency that combines direct marketing best practices with the science of human behavior to get people to take action. Wilde Agency is a division of Universal Wilde, a nationally recognized leader in direct marketing solutions and personalized communications, including variable data printing, commercial printing, fulfillment and distribution, and mailing services.
About NEDMA: The New England Direct Marketing Association (NEDMA) is a regional, professional association for all those interested in direct marketing. For more information, please visit http://www.nedma.org.