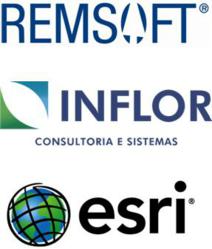 Esri, Remsoft and Inflor have been working closely together to deliver smoother forest planning solutions to their clients.
Fredericton, New Brunswick (PRWEB) March 13, 2013
Canadian company Remsoft, the leading provider of spatial optimization technology and services, is pleased to announce they will be co-presenting with Inflor Consultoria e Sistemas and Esri at this year's Timberland Investing Latin American Summit in São Paulo, Brazil.
Brazil is the sixth largest reforested country in the world with more than six million hectares of forest plantations. Investment in the country's forest industry has contributed significantly to the country's GDP, and they plan to continue to grow the industry in a sustainable and methodical manner – including active dialogue with domestic and foreign investors. As such, the Summit is a means to invite foreign investors to São Paulo to discuss timberland investing in Brazil and greater Latin America.
Topics to be examined at the 6th annual summit include demystifying timberland investment in Brazil, along with a panel of keynote speakers with expertise in the world forestry investment markets. The summit will also host an interactive session on Brazil's investment chain, and behaviour analysis of Latin American markets. Numerous paper and cellulose companies and pension funds will also be in attendance.
Summit participants will also learn about Remsoft's technology platform for the Latin American market and the significant gains that can be realized when best of breed technologies are integrated into one solution. Esri, Remsoft, and Inflor have been working closely together to deliver smoother forest planning solutions to their clients. As part of that initiative, they will be speaking about the value they envisage in delivering a fully integrated solution that is appropriate for the investment sector, and can also be leveraged by mid-level landowners so they too have access to planning technology in managing the forest resource on their lands.
After the summit, Remsoft will be hosting a User Group and Modeling Conference in which clients can share the capabilities of their forest management planning models with each other. The company will be also offering classroom training for current clients in modeling fundamentals.
About Remsoft
Remsoft provides asset lifecycle optimization solutions that empower executives to maximize the performance and value of their assets. Through advanced analytics, modeling and spatial planning technology, Remsoft simplifies complex, high-variable decisions to fuel long-term sustainability. Hundreds of organizations worldwide use Remsoft software to make the most of their resources and assets. For more information, please visit http://www.remsoft.com.