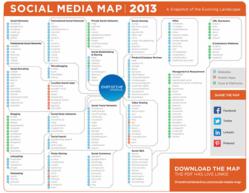 Boston, MA (PRWEB) March 13, 2013
Overdrive Interactive, a leader in social media marketing, completely overhauled its Social Media Map giving users a comprehensive guide to all social media categories and sites. The PDF is updated for 2013 and facilitates easy exploration of the rapidly expanding landscape of social media sites and applications by featuring live links to each of the 254 sites, apps and tools listed. The map is available immediately for download on the resource tab of Overdrive's Facebook page, or at:
http://www.OverdriveInteractive.com/Social-Media-Map
"Our Social Media Map is a reference tool designed to help people get their heads around the ever-changing social media landscape," said Harry Gold, Overdrive's founding CEO. "And the live links in the PDF give everyone access to all tools marketers use to expand their social media presence."
Inspired by the Boston subway map, the infographic is designed to organize the world of social media into a sensible and categorized visual. Marketers will find the enhanced 2013 social media map includes many more categories and sites than in prior versions. The map features highly useful apps and tools, an expanded class of professional networks and social commerce resources, and takes a snapshot in time of a rapidly evolving landscape.
The Social Media Map now features over 254 items, an increase of over 100 sites which are organized within 24 distinct categories. The site features the big sites you would expect to see, including Facebook, Twitter, LinkedIn, and YouTube, but also newer categories and players like mobile, Snapchat and Instagram.
Previous versions of the map have been found on websites and blogs across the U.S and the globe, in countries such as the United Kingdom and Australia, as well as throughout Europe and Asia. Since the original issue, the social media map PDF has been downloaded off the Overdrive site over 50,000 times.
About Overdrive Interactive
Overdrive Interactive is an award-winning digital marketing agency that helps leading companies compete and win in the online space. Founded in 2001, the agency has developed into an integrated digital shop that delivers brand building, customer acquisition and lead generation programs utilizing search marketing, social media marketing, online media buying, analytics, and world class creative services.