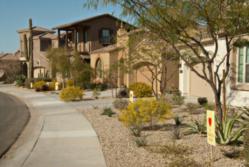 "There is no better honor than to have actual homeowners vote based on a personal experience with their builder," said David Kitnick, President of Rosewood Homes.
Scottsale, Ariz (PRWEB) March 12, 2013
Eliant recently announced Rosewood Homes as winner of the 2013 "Homebuyers' Choice Award" for providing the "Best Overall Purchase and Ownership Experience" in North America. Rosewood was also recognized again for having the highest "First Year Quality" rating. This is the first time a homebuilder has been honored in four consecutive years and Rosewood Homes is the only Arizona builder to ever receive this prestigious award. The 2013 winners were chosen based on the results of surveys completed by more than 76,000 recent home buyers from across the United States and Canada.
For more than 27 years, David Kitnick and his team have been recognized for providing exceptional quality, customer satisfaction and design excellence. Generous standard features, innovative floor plans and rich architecture combine with high quality construction and energy efficient features to make Rosewood Homes the top choice when purchasing a luxury home.
"There is no better honor than to have actual homeowners vote based on their personal experience with their builder," said David Kitnick, President of Rosewood Homes. "At Rosewood, there's only one way to do things: the right way. That's why throughout the building process you'll find our rigorous Rosewood Quality Assurance Program and our Rosewood Signature Construction, where we go above and beyond the industry standard for quality and craftsmanship," said Kitnick. "Everyone affiliated with Rosewood is committed to providing industry leading customer satisfaction, quality and design with each new Rosewood home," said Kitnick.
Rosewood Homes has neighborhoods in three prestigious locations in Arizona - DC Ranch, Vistancia and Estrella, and is in various stages of planning and development of four new neighborhoods opening in 2013 and 2014 including 33 Campbell Place in the Camelback Corridor. The exclusive, 18-home private gated 33 Campbell Place is slated to grand open late April with well-appointed homes ranging from over 2,340 square-feet to nearly 3,400 square-feet and providing authentic architectural detailing as well as highly sought after features such as: home offices, guest casitas, bonus rooms, courtyards and wine closets. Homes start in the $470s.
"Once again, Rosewood Homes is the undisputed leader in the delivery of an extraordinary customer experience," said Bob Mirman, founder and Chief Executive Officer of Eliant.
The Eliant awards are presented annually by California-based Eliant, a customer experience management company that has been surveying buyers of new homes for 29 years. Eliant has earned an international reputation by providing a wide range of sophisticated customer experience management strategies for home builders, lenders, escrow firms, design firms and other companies interested in improving their customers' loyalty.
About Rosewood Homes
David Kitnick, a second generation contractor, grew up in the homebuilding industry and has built thousands of award-winning, environmentally sensitive and energy efficient homes since 1986. In addition to receiving the Eliant Homebuyers Choice Award for an unprecedented 4-consecutive years, David and his team have earned some of homebuilding's most prestigious honors over the past 27-years including the "Grand Award" as "Builder of the Year" by the Homebuilders Association of Central Arizona (HBACA), the "Small Volume Builder of the Year" Award by the HBACA, the Best Affordable Single Family Detached Home in America" by the National Association of Home Builders (NAHB) and dozens more. For more information about Rosewood Homes, please visit http://www.rosewoodhomes.com.
# # #
Media Contact: Amber Liptai, aliptai@martzagency.com, 480-334-0163
Rosewood Homes Contact: David Kitnick, dkitnick@rosewoodhomes.com or 480-922-6366 Ext 203