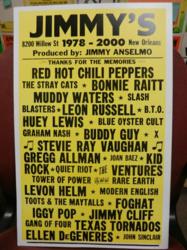 "New Orleans is known for live music. Musicians are coming together to help save the music at Jimmy's"
Jimmy Anselmo, owner.
NEW ORLEANS, LA (PRWEB) March 18, 2013
Jimmy's Music Club and the man behind it, Jimmy Anselmo, are hosting a concert series to help his legal defense fund to reopen his iconic music club. Due to leagal wrangling in City Government, Jimmy is having to fight an illegal alcohol permit moratorium in the neighborhood. The concerts begin on Thursday, April 4 and will run through Saturday, April 6 at the venerable Jimmy's, 8200 Willow Street, New Orleans, LA.
"Musicians need venues to play and earn money," says Jimmy. "Live music has been a part of New Orleans since the beginning. I want to keep the music alive, but I'm having trouble."
Jimmy's is an important piece of the New Orleans music scene. Originally Al's Pool Hall, Jimmy opened his doors in 1978 with the legendary Professor Long Hair and the Neville Brothers. For the past three decades Jimmy's has been supporting the musicians and introducing performers to the New Orleans market. In addition to Professor Longhair and Neville Brothers, other acts that played at Jimmy's: The Radiators, Dr. John, Red Hot Chili Peppers, David Allen Coe, Iggy Pop, Irma Thomas, Bonnie Raitt, The Meters, Kid Rock, Jane's Addiction, and the list goes on.
Check http://www.jimmyslive.com for updates.