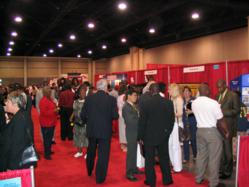 Employers are becoming more pro-active by reaching out to candidates through our Career Fairs.
Boston, MA (PRWEB) March 14, 2013
Psijobfair.com will be hosting a Boston Professional & Technology Career Fair on April 2 from 10am – 3pm at the Revere Hotel in Downtown Boston, MA. The Job Fair is open to candidates with a minimum 4-year degree or better. A degree is required to assist candidates who have invested in their education to make connections with positions that require a college degree.
Featured employers include Citizens Bank, Wells Fargo Advisors, National Security Agency, Kraft Group, Mass Electric Construction Co., Blue Cross Blue Shield, Tufts Health Plan and many more. According to Mike Hall President of PSI 'Employers are becoming more pro-active by reaching out to candidates through our Career Fairs. Career fairs promote the face-to-face meeting and ultimately that's where the rubber meets the road." Careers will be available in sales, health, engineering, information technology, finance, security, law enforcement, education, management, government, and more.
Event is free to candidates with a minimum four-year degree or better. Attendees will receive free two career-enhancing e-books. The Career Fair is a great way to meet with multiple employers in one location. With the economy and job market improving, candidates are encouraged to stop by and explore new opportunities. If you already have a job, you should be curious about what else is available.
About PSI
PSI is the nation's leading and most established producer of Career Fairs. Their programs help jobseekers make valuable connections with many Fortune 1000 employers who participate in PSI's events. PSI programs help employers with their compliance and diversity initiatives. They are the only job fair producer endorsed and partnered with leading organizations like the NAACP, National Urban League, and many leading professional associations. PSI's community partners provide both employers and candidates an enterprising and authentic diversity friendly environment to explore career opportunities.