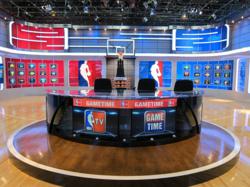 Orlando, Florida (PRWEB) March 13, 2013
Innovative Show Design (ISD), a scenic and lighting design firm based in Orlando, Florida announced record breaking business and contracts while partnering with some of the world's most sought after entertainment, corporate and sports partners. In the highly competitive world of show design, ISD garnered business with the giants of Sports and Entertainment including the Super Bowl, NBC Sports, World Series of Poker and most recently NBA Television. It was NBA TV at Turner Studios in Atlanta that turned to ISD when they set out to create a more technologically advanced set design that would appeal not only to the player but the broadcaster and fan alike. ISD then delivered a 360 degree studio, inside of which there is a regulated basketball half court. This was the first time NBA TV contracted with an Orlando based firm like ISD, often foregoing smaller markets for the names in New York and Los Angeles.
ISD worked with Turner director Brent Berkman in reviewing all of the requirements including what Berkman laid out as a list of mandatory stats including better court demonstration resources and something innovative that showed how the court could turn. Having never done this before, he also insisted on the element of a required news desk, scoreboards for video displays, effective use of monitors and an interview set with road versatility. Social media also played a big part in ISD's design allowing the social media activity to be displayed during show time on NBA TV.
"We wanted the design to display the glitz and glamour of the game," recalls Justin Garrone, Associate Artistic Director for ISD, which specializes in broadcast television and live events and whose clients include NBC, ESPN, and Poker PROductions. "Considering the game is constantly moving, we wanted the set to have a sense of motion. We also looked at the arcs created by the ball when a player shoots it. Every corner and edge of the set reflects this."
In addition to rendering its files and adding texture and lighting to achieve extra realism with CINEMA 4D software, ISD relied heavily on making sure every measurement was correct. It came down to quarter of inches as the firm continued to make changes to shape sizes and scales to ensure accuracy throughout the entire process. They partnered with Vectorworks Spotlight utilizing the software to insure every measurement was perfect.
The NBA Television studio design project set ISD apart from other Southern based firms and strategically places them in the same league as the bigger markets of New York and Los Angeles. All of the aspects of the set design requirements were met including better court demonstration resources, video displays, scoreboard accuracy, lighting, effective use of monitors, road versatility and interview sets.
Chris Runnells and Justin Garrone served as Artistic Directors, Nate Mitchell was Set Designer -Graphic Supervisor and Mark Dowling was Set Designer
ISD specialized in special effects, off-the-charts design elements and professional sports structures. From the giant structure of circular trusses for World Series of Poker to the LED products and series of state-of-the-art designs used for Super Bowl, the six year old design firm has perfected the art of design, graphics and lighting and earned its accolades in the business.
From a big dream in a small office to the world's biggest television set, Chris Runnells and his core team have taken Innovative Show Design from a small operation to a world class, award winning production and creative design firm that is out to make its mark globally. For more information on Innovative Show Design go to http://www.ishowdesign.com
ABOUT INNOVATIVE SHOW DESIGN (ISD)
Innovative Show Design (ISD) is a boutique lighting and design firm based in Orlando, Florida. Established in 2006, ISD has celebrated five years of success in all aspects of set design, lighting, and production. Innovative Show Design's creative team believes every set should tell a story and the company works very closely with all clients to create an environment that best portrays the vision. Each design produced by ISD is engineered and built to be both structurally feasible and cost effective. The company determines the relationship between the set and the venue where it will be produced and then develops a series of products, ranging from still photo realistic renderings to full motion virtual tours. The award winning firm boasts an impressive list of clients which include NBA TV, The World Series of Poker, various Super Bowls, Hockey Central, every major television network sporting show and many others. For more information on Innovative Show Design go to http://www.ishowdesign.com