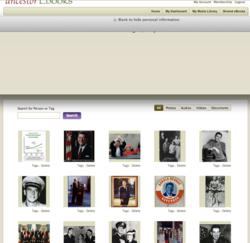 Family faces are like magic mirrors. Looking at people who belong to the past, present, and future. - Gail Lumet Buckley
(PRWEB) March 14, 2013
AncestorEbooks.com speaks out on the UK's online Newspaper - The Telegraph's, 12 March article about the "significant and growing" demand for Ebooks, and states that 'eBooks have been added to the official list of what British shoppers typically buy'. This world news headline comes just four days after the following release: 'Barak Obama's English Relatives whose lives are a world apart from the White House.'
AncestorEbooks asserts: Family History Research is the second most popular topic of online searches around the world. According to Bruce Falconer on Bloomberg Businessweek/Lifestyle (September 2012). You can easily guess what is the first, after all it seems to saturate every marketable product on or off line.
For example in March alone you can find global events for Family History around the world: March: 11th was the last day of Family History Week in Australia, the 16th is Ancestry Day in Blue Springs, Missouri, 22nd Annual Spring Seminar in Fair Oaks, California, 15th in Fort Wayne, Indiana, 23rd Birmingham and Midland Society for Genealogy and Heraldry in the United Kingdoms. The list of US/Global events is endless for learning and researching family history, according to AncestorEbooks.com.
2013 has been announced as Ireland's "Family History Year" in order to encourage tourism and the month of March seems to be centered around gathering Irish records, for instance Ancestry.com held a livestream video webinar on March 11th, 'Tracing your Irish ancestors back to the homeland'.
Enormous amounts of research are being done, every day, throughout the year, in the U.S. and around the globe. It is this popularity people have with Family History and Ebooks that caused AncestorEbooks.com to be developed by it's founder, C Besendorfer, and designed by Tekyz.
By combining these two high-interest subjects into one website AncestorEbooks.com provides a venue where customers upload their Family Tree (via gedcom files), photos (which can be tagged as in Facebook), videos, audios, documents and certificates of Marriage, Divorce, etc, and turning the combined information into a downloadable Ebook with a page for each person within the Family Tree.
In the above referenced article, Gray and Jamieson write how experts from the New England Historical Genealogical Society have traced a link between President Obama, through his 'mother, Ann Dunham, to the Pilgrim forefathers.' Continuing that many families in Cambridgeshire villages are bickering about 'who can lay claim to President Obama's English roots.
AncestorEbooks.com invites all Villages and Families involved to bring their media to it's website where it gives customers their first 72 hours of access free. With a minimal subscription their 'cloud' will keep in storage all uploaded information (with a current subscription).
An Interactive Ebook that delineated the names and families of Barack Obama's mother, along with corresponding documents and photos, Immigration records, and newspaper stories could prove the bragging rights of these Cambridgeshire Villagers.
The Ebook with it's Family Tree and Personal Media could be created for each child, nephew and niece, Aunt and Uncle throughout the area and delivered to each families iPad for 6.95. An amazing way to combine everything into an interesting downloadable and interactive Ebook that will capture the interest of the adults and their electronic-savvy youth, proving once and for all who is related to President Obama.