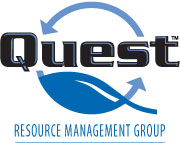 Frisco, Texas (PRWEB) March 13, 2013
Releasing its 2012 Corporate Sustainability Report, Quest Resource Management Group announced today that it operated as a carbon neutral business in 2012.
In just five short years, Quest has experienced considerable growth as company. From 2008 to 2011, the company has grown by over 300%. With such rapid growth comes the increased need for both financial and environmental resources.
Since 2011, Quest has tracked carbon emissions associated with conducting daily business operations. Progress towards reduction goals is monitored monthly. Beginning in 2012, Quest made the strategic business decision to purchase renewable energy and carbon offsets equivalent to 100% of the company's 2012 carbon emissions. Purchases include, Green-e certified renewable energy credits (offsetting 2012 electricity consumption) as well as Climate Action Reserve certified carbon offsets (offsetting all other emissions generating business operations).
As a result of the purchased offsets, Quest operated in 2012 as a carbon neutral business.
"I am very proud of the accomplishments of our Quest Green Team and their efforts to make our company more sustainable," said Quest CEO, Brian Dick. "We believe that we must also be good stewards of the environment as we help other companies achieve their goals. We know it's not easy, but progress towards these goals and tracking is the key to success. We are happy about our progress but not satisfied, and will continue to improve each year."
The full sustainability report can be found on the Quest website:
http://www.questrmg.com/corporate-sustainability
About Quest
Quest Resource Management Group is a full service environmental consulting and management company, headquartered in Frisco, Texas. Quest helps Fortune 500 companies to maximize profits and mitigate risks, while minimizing their ecological footprints. Quest clients span across all key industry segments, including food services, hospitality, healthcare, manufacturing, construction, automotive aftermarket and fleet industries. Quest Resource Management Group provides North American clients with comprehensive sustainability programs, innovative recycling solutions and proven environmental protection.
Quest prides itself in delivering targeted solutions exclusively tailored to the needs of each respective client. Quest also offers Return on Investment (ROI) and Return on Sustainability (ROS) based road maps to help clients design actionable programs for managing RFPs, defining operational protocols, creating and implementing training programs, and defining best practices. Quest's Sustainability Intelligence Dashboard™ helps clients improve decision making by extracting greater insights through unsurpassed business intelligence.
###