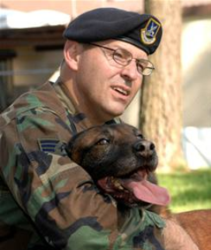 $120,000 per year in free advertising with Google for Nonprofits
Denver, CO (PRWEB) March 13, 2013
On behalf of Military Working Dog Adoptions, George Avery and Native Rank have secured a Google For Nonprofits Grant, which provides $120,000 per year in advertising on Google for qualifying 501(c)3 organizations. With this Grant, the team is working together to ensure the Military Working Dogs Adoption website will get the traffic and branding it needs to help it succeed.
Last week, an episode of Glory Hounds aired on Animal Planet. The show detailed how military dogs are treated in Afghanistan, how they are utilized in combat situations and details the close relationships these dog's handlers form with their working dogs.
Moved by the stories of these combat dogs in action, Avery immediately reached out to Debbie Kandoll at Military Working Dogs Adoption (MWDA) after watching the show. MWDA is a Nonprofit organization that helps bring dogs from Afghanistan home to the states, hopefully to be adopted by their old handler. When the dogs are retired from the military they are often left behind, and MWDA assists financially and strategically in ensuring they can find homes in the States. George decided that he and his team would help the organization on his own dime.
While Native Rank is working hard to help bring visibility to this group, Debbie and her peers are working to get legislation passed to assist in bringing these dogs back over to the states after they are retired, to be treated just like soldiers - not pieces of equipment to be discarded, but true heroes.
Until our Military Working Dogs are reclassified as Canine Members of the Armed Forces, we will be working hard ensure the US public is aware of these dogs, and of Military Working Dogs Adoption.
Visit http://www.militaryworkingdogadoptions.com/ for more information on the program.
Visit http://nativerank.com/npoinitiative to find more about Native Rank's Nonprofit Initiative.