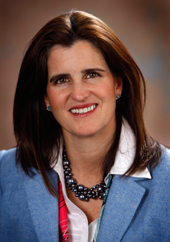 Washington, DC (PRWEB) March 14, 2013
New Jersey Governor First Lady Mary Pat Christie and other Governor First Spouses will again be joining together to bring attention to Down syndrome cognitive research, a rapidly advancing area of research that holds great promise for improving memory, learning and communication for individuals of all ages with Down syndrome. The First Spouse "Light the Way" event will be observed on World Down Syndrome Day, March 21, 2013. On the evening of that day, Drumthwacket, the official residence of the Governor of New Jersey, will be illuminated in the color blue to symbolize First Lady Christie's support of Down syndrome cognitive research. First Spouses across the country are planning to showcase the color blue on their individual state Governor's residence or other buildings, either through illumination, a blue ribbon or a variety of other decorations.
In 2012, Mrs. Christie was joined by First Spouses from Alabama, Arkansas, Colorado, Delaware, Guam, Kansas, Maine, Maryland, New Hampshire, New Jersey, Nevada, Pennsylvania, South Carolina, Texas, Utah, Virginia, Virgin Islands, Washington, West Virginia and Wyoming, in endorsing this event. The goal of the Light the Way program is to expand awareness of Down syndrome cognitive research, including the efforts of the non-profit foundation Research Down Syndrome (RDS) to fund this research. Mrs. Christie stated "I am inspired by initiatives which are designed to empower individuals in New Jersey and was so pleased that other First Spouses participated in this campaign the last two years." Dr. Robert Schoen, President of Research Down Syndrome, adds "Research Down Syndrome is grateful for the continuing support by the First Spouses of the Light the Way program. We are privileged that they are joining our efforts to Empower the Extraordinary".
The Light the Way campaign adds support to RDS' efforts to educate and increase awareness and funding for Down syndrome cognitive research – motivating not only the Down syndrome community, but also the general public to support RDS' work to empower individuals with intellectual disabilities to reach their fuller potential.
This research has achieved significant success in a relatively small amount of time. Dr. Schoen notes that "Over the last few years, researchers have identified multiple neurobiological pathways representing potential targets for the development of drugs to positively impact learning and memory in individuals with Down syndrome. Three clinical trials testing potential therapies are either underway or approved to begin". Dr. Schoen also notes that there is broad applicability of Down syndrome research to conditions impacting the general population. "Associations between Down syndrome and Alzheimer's disease have been identified which open promising paths of investigation for treating both Down syndrome and Alzheimer's.
RDS is a 501c3 non-profit foundation which funds research at leading institutions directed towards identifying safe and effective biomedical therapies to treat the intellectual challenges associated with Down syndrome. These studies now provide the promise of biomedical therapies for improving memory, learning and communication in individuals with Down syndrome, offering the potential for increased life opportunities.
About Research Down Syndrome
Research Down Syndrome (RDS) is among the leading sources of private funding for Down syndrome related cognitive research. RDS supports and funds Down syndrome cognitive research conducted at leading research institutions that are studying the basis of the intellectual impairments associated with Down syndrome - including Johns Hopkins University; Stanford University; University of Arizona; University of California, San Diego; University of Texas, Austin; and VA Palo Alto Health Care System. Research Down Syndrome is a legal corporate entity, and is a 501(c) (3) nonprofit organization designated by the Internal Revenue Code. For more information, go to http://www.researchds.org, or contact RDS: info(at)researchds(dot)org or 877.863.2121.