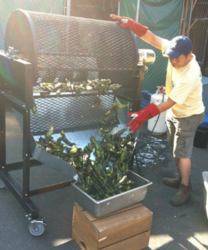 and with this new equipment we'll be able to make even more Hatch green chile available to stores, restaurants and consumers
(PRWEB) March 13, 2013
Young Guns Produce, Inc, one of the largest suppliers of Hatch, New Mexico green chile, has announced its plans to increase production of frozen Hatch Green Chile.
"We're installing new roasting equipment," says Chris Franzoy, President of Young Guns Produce, Inc. "This will allow us to roast a greater quantity of green chile and ultimately greatly increase our output."
According to Franzoy there are few large scale green chile producers that actually fire-roast their product.
"Many either steam their green chile or bake it, which are both cheaper methods of production. The problem for the consumer is that these methods really take away from the flavor of the chile."
The new roasting equipment is being joined by new production equipment used to fill each bag with product.
This equipment promises to make their production faster and more accurate. In addition it will facilitate traceability by printing lot numbers directly on bags of their product.
"Every day we're looking at better ways to get our products to the consumer. We've recently begun selling our frozen Hatch green chile online, and with this new equipment we'll be able to make even more Hatch green chile available to stores, restaurants and consumers than ever before."
About Young Guns Produce, Inc.
Young Guns Produce, Inc. is located in Hatch, New Mexico (also known as, "The Chile Capital of The World"). The corporation was established in February of 1992. The principal owners are Chris and Tammy Franzoy.
Young Guns Produce began its focus on marketing produce grown in Hatch, New Mexico with the idea of supporting the community and delivering great food to the consumer. Chris has always headed up the sales department, and has been at the desk for over 25 years.
The company has evolved into one of the largest suppliers of onions and fresh Hatch Green Chile, pumpkins, and New Mexico Pinto Beans in the Hatch Valley. The newest addition to our Hatch produce is our Frozen Hatch Green Chile.
For more information go online at http://www.younggunsproduce or call 1-575-267-3001.