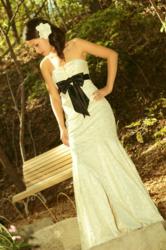 Omaha, NE (PRWEB) March 13, 2013
Rising among the best Omaha wedding photographers is an artist named Kenal, who offers new services in the arts. Imagine a moment captured in still that exemplifies joy, peace, excitement, laughter, and emotion; that very moment captured creatively in a way that will always be refreshing when viewd. Pierre Kenal Louis is a fashion photographer rising among the best Omaha Wedding Photographers who offer quinceanera, sweet 16, live event and portrait photography services; he delivers memories in stills. From creative shots of the bride's wedding dress, wedding location, bride's mates and groom's men along with many clean candid shots to forever have as a memory of the once in a lifetime moment.
Louis has five years experience as a photo editor, retouching, and graphic designer as well as 10+ years as a visual artist. When shooting he frame shots in a way that is not just a standard, but captivating people find one's work creative. Louis who also goes by the alias Kenal is an all-around artist that brings this essence to his photography. Often when not shooting and local live bands he ventures to shoot weddings, local parties and events.
Bringing an artistic eye to the photographs is what Kenal specialize in as well as editing the photographs to preserve the natural look, but in a beauty way of retouching. Some of the new services that Kenal offer aside from graphic design include fashion photography; portraiture, and live event photography include wedding photography in Omaha, Kansas as well as nationally.
Much of the photographic works that the creative artist have shot and composed can be viewed on his website Kenalsworld.com under photography. Kenal is also a multi -talented artist who composes original artworks for sale, poetry, paintings, write music and more. Kenal Louis has been featured in the 55th Grammy Awards souvenir book for his music, but is far more than just a musician. He is a creative artist, wedding photographer and more. Let Kenal capture that everlasting memory for you in a professional, creative and joyful way.
Call Kenalsworld today to inquire on rates and to book a date for your special moment to be captured with a creative eye or event.
Eden Louis
Kenalsworld LLC
561-351-9224
kenalsworld.com