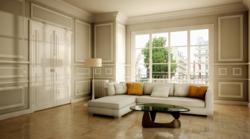 Architects and designers now have all the tools they need to create professional 3D visualizations and walkthroughs that are impressive and very affordable.
Burbank, CA (PRWEB) March 13, 2013
The LightWave 3D® Group, a division of NewTek, Inc., announced today a new Architectural Design Bundle that couples LightWave 11.5 3D modeling, animation and rendering software with WTools3D's LWCAD 4.5 CAD tools for LightWave. The bundle includes a powerful set of features that architects, set designers and interior designers can use to cost-effectively create professional 3D visualization and animation for the most demanding design projects.
"LightWave and LWCAD have always had a strong presence in the architectural community," says Viktor Velicko, creator of LWCAD. "By collaborating with the LightWave 3D Group to put together this new Architectural Design Bundle, architects and designers now have all the tools they need to create professional 3D visualizations and walkthroughs that are impressive and affordable."
Some of the many features in LightWave 11.5 for architectural visualization and animation include:
● Real World Measurement Capabilities: Utilizes real-world measurement units with numeric conversion via a mini-calculator and support for metric and imperial values.
● Multiple Lighting Solutions: Offers image-based lighting and Skytracer for physically-based day and night lighting scenarios. The Sun Spot Modifier provides accurate sun positioning based on latitude, longitude and time zone. Time lapse settings allow for easy day and night cycles, and photometric illumination using standard Illuminating Engineering Society (IES) files.
● Interactive Modeling Tools: Introduces new tools such as UV Unwrap, Edit Edges, Place Mesh, Slice, Thicken and Heat Shrink to complement the already robust 3D modeling toolset.
● Instancing Features: Duplicate object masses with little memory overhead while taking advantage of new features like object control for scale, stretch, offset and rotate. Instancing can also be used to randomly scale, position, rotate and surface objects differently from the source object.
● Advanced Rendering Options: LightWave's production renderer is the same renderer used to create highly realistic visualizations for television and film, supporting up to 999 render nodes in one LightWave license. Interactively view global illumination and work in progress in a viewport window with Viewport Preview Renderer (VPR), which supports depth-of-field (DOF), motion blur and anaglyph stereo as well as instancing and volumetric systems in the interactive render window. And the rendering for print capability sets the camera frame to the correct dimensions for print, taking into account DPI and bleed.
LightWave 11.5 also offers interactive flythrough and walkthrough technology with plug-and-play support for the 3Dconnexion SpaceNavigator device. Additional features include After Effects Interchange tools, a Shadow Catcher for compositing objects in a scene, Linear Color workflow for control over color profiles, support for multiple file formats, dongle-free licensing with free technical support, and more.
ABOUT LWCAD 4.5
LWCAD is a complete set of standard CAD tools for LightWave created specifically for architectural design and visualization. Some of the many new features in version 4.5 include:
● Powerful CAD Tools: Extend the LightWave Modeler with CAD specific 2D drawing capabilities such as primitives, lines, curves, and arcs; 3D CAD tools include trim, knife, extend, blend, offset, fillet and many others.
● OSNAP Engine: Construct precise models using Snap types such as point, center, intersection, tangent, perpendicular, ruler, projection, angle, grid and more.
● Real-Time Booleans: Cut, slice and edit models with real-time Boolean options that are available in many of the software's tools.
● ViewPort Interactivity: Speed productivity and access LWCAD's onscreen controls directly in the viewport.
LWCAD 4.5 also includes a Universal Coordinate System (UCS), Shape Tools to manage instances and conversions to polygons, interactive wall grids, furniture tools and shapes for fast interior modeling, architectural presets for interior and exterior elements, and much more.
PRICING AND AVAILABILITY
The LightWave 11.5 and LWCAD 4.5 Architectural Design Bundle is now available and priced at $1545 (USD). Customers who purchase this bundle will download LightWave 11.5 directly from the LightWave website and receive a coupon code to download LWCAD 4.5 directly from the WTools3D website. All software and support for LWCAD 4.5 is provided directly by WTools3D.
Registered LightWave customers can upgrade to the LightWave 11.5 and LWCAD 4.5 Architectural Design Bundle for $745 (USD). This offer is not available for educational licenses of LightWave 11.5 software.
For more information about the LightWave 11.5 and LWCAD 4.5 Architectural Design Bundle visit http://www.lightwave3d.com/lightwave_lwcad_promo.
To locate an authorized LightWave reseller or for more information about LightWave visit http://www.lightwave3d.com.
ABOUT LIGHTWAVE
LightWave 3D combines a state-of-the-art renderer with powerful and intuitive modeling and animation tools. LightWave includes hundreds of cross-platform render nodes for near limitless rendering, support for Windows and Mac UB 64 and 32-bit operating systems, free technical support and more. LightWave is enjoyed worldwide as a complete 3D production solution for feature film and television visual effects, broadcast design, print graphics, architectural visualization, game development, and more. LightWave is responsible for more artists winning Emmy® Awards than any other 3D application.
LightWave has been used in the creation of CG and visual effects for leading feature films and television shows, including "James Bond: Skyfall," "The Hunger Games," The Amazing Spider-Man," "The Adventures of Tintin," "Avatar," "The Walking Dead," "Battlestar Galactica: Blood & Chrome," "Fringe," "CSI: Crime Scene Investigation," and many more.
ABOUT NEWTEK
NewTek is transforming the way people create network-style television content and share it with the world. From sporting events, Web-based talk shows, live entertainment, classrooms, and corporate communications—to virtually any venue where people want to capture and publish live video, we give our customers the power to grow their audiences, brands and businesses, faster than ever before.
NewTek is privately owned and based in San Antonio, Texas.