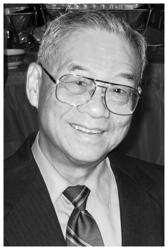 San Jose, CA (PRWEB) March 12, 2013
Dr. Shu-Park Chan was a bold visionary, a passionate leader in education and a warm builder of community. It is with great sadness that we announce the unexpected but peaceful passing of International Technological University's (ITU) founder and President Emeritus on Friday, February 22, 2013 in Hong Kong. A gentleman of charm and grace, Dr. Chan had been battling Alzheimer's disease in his last years, but he remained diligent in building the ITU legacy that will impact many generations to come.
Dr. Chan was born in 1929, grew up in Canton, China and was tenth of 18 children. His father, Jitang Chen (aka Chi-Tong Chan), was the warlord and leader of Canton Province from 1929-1936 where he built much of the infrastructure that is still utilized today. His father gave him the charge to go to America, learn its educational system, and bring it back to China. With vigor and dedication, Dr. Chan continually strove to execute this lifelong mission.
Dr. Chan was an alumnus of Virginia Military Institute and University of Illinois at Urbana-Champaign. He was often referred to as one of the top ten electrical engineers of his generation; and the application of his theories helped lay the foundation for today's modern electronics.
He taught for over 30 years at Santa Clara University (SCU) where he rose to become Dean of the School of Engineering. Mentoring Ph.D. students was his specialty and many of his graduates went on to found pillar industrial companies in the Silicon Valley and abroad.
After retiring from Santa Clara University, Dr. Chan founded International Technological University (ITU) in 1994 to execute his lifelong mission of globalizing the industry-linked Silicon Valley education that he helped shape.
As an impassioned student-focused educator, he is well characterized by the joint seminar courses he offered, exposing students to industry experts speaking on the latest developments in their field. He lived by the motto "respect your profession and be a good team player" and would convey that each semester in his opening lecture.
In his prime, he excelled at gymnastics and table tennis and also became a masterful Chinese watercolor painter and calligrapher.
Dr. Chan was a loving husband to his wife, the late Stella Chan, and he is survived by his two children, Ms. Charlene Muehlbauer of St. Paul, Minnesota, her three grandchildren and Mr. Yau-Gene Chan, of San Jose, California, who succeeded him as President and CEO of ITU in 2010. Charged and inspired to carry forth the Chan family legacy, Yau-Gene Chan is building the institution in his father's memory towards a goal of "Global Development through Silicon Valley Education."
Please join us to celebrate his life and legacy on March 15, 2013 at 11am in the auditorium at International Technological University.
Please visit http://www.itu.edu for more information.