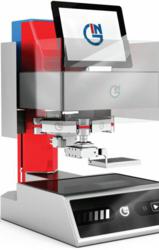 BVS Founder and President Pamela Gardner comments "We are thrilled to help bring innovation from Finland to San Diego for the benefit of our local life science community."
La Jolla, CA (PRWEB) March 14, 2013
The increasing global demand for quick drug discovery and production is driving growth in the laboratory automation market. This market will reach $4.1 billion by 2015, according to Global Industry Analysts, Inc. As a solution provider to the industry, Global Innovation Network will present the Delilah EMB dispenser at the BVS La Jolla Biotech Day - 10th Anniversary Celebration at the Estancia Hotel in La Jolla, CA on March 21, 2013. The multi-functional highly accurate and quiet dispenser has the world's smallest footprint. This clever liquid handling robot increases productivity compared to traditional solutions and saves space in clean rooms and on desk tops. It has a maintenance- free operation with no wearing parts in its dispensing module. It offers extremely accurate, high- speed dispensing of up to 40 doses per second from volumes of 50 nanoliters to 140 microliters. The patented electromagnetic bellows technology offers non-contact dispensing via air and no external pressure supply is required. With full, robotic compatibility the dispenser can transform high throughput screening operations by reducing reagent costs and improving efficiency.
GIN is dedicated to introducing quality and performance driven laboratory automation products into new markets. "We facilitate the transition of cutting edge Finnish technologies into global markets by decreasing the risk. We do this by productizing the technologies and introducing the technology into the market." says Teijo Fabritius, CEO for Global Innovation Network. The Delilah product line is a good example of this and includes sample and material handling modules that are reliable and maintenance free. In production automation, the focus of the business line is on the development of Point of Care (POC) tests manufacturing.
Biotech Vendor Services, Inc. (BVS) is the leader in delivering effective and cost-saving vendor management strategies to research organizations in all sectors of the Life Sciences Industry nationwide. For over a decade, BVS has been saving clients time and money with an ever evolving network of top-tier Life Sciences suppliers and by delivering hundreds of customized vendor product shows, technical seminars, and scientific events to help research organizations strengthen their vendor relations and simplify the product research and selections process for researchers.
BVS Founder and President Pamela Gardner said "We are thrilled to help bring innovation from Finland to San Diego for the benefit of our local life science community. It is part of our mission to provide the local community with access to all the capabilities they need to be more efficient, productive, and globally competitive."
About Company: Global Innovation Network was founded in 2010 by a group of investors in Oulu, Finland. The private and government backed company focuses on identifying and delivering solutions in three target markets; clean tech, manufacturing automation for diagnostics and laboratory automation. The serial entrepreneurial team has extensive experience in global operations and a track record of highly successful exit strategies. Please stop by and introduce yourself at the BVS La Jolla Biotech Day - 10th Anniversary Celebration, March 21, 2013 where GIN will be exhibiting. For further information please contact Matti Koivu at matti.koivu(at)go-gin(dot)com