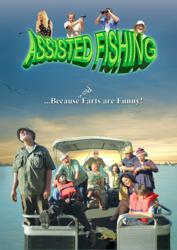 When it came time to do the fart scene, I didn't want just a loud fart noise and reactions - it had to be big and cartoonish. - Film-Maker
Hollywood, CA (PRWEB) March 13, 2013
The over-the-top slapstick comedy "Assisted Fishing" has been awarded for its wacky brand of humor once again. This time, the film received an award from the website http://www.IndieMovieNews.com for "Best Fart Scene". The awards were given to micro-budget films with budgets under $50,000. Other categories included "Best Explosion" and "Best Use of Fake Blood"
The DVD cover of "Assisted Fishing" features the tagline - "...because old farts are funny". The scene involved senior citizens using a well orchestrated flatulence attack to disable their caretaker and escape the assisted living home in order to go fishing.
The film-maker said, "The film is like a real life cartoon, everything about it is over-the-top. When it came time to do the fart scene, I didn't want just a loud fart noise and reactions - it had to be big and cartoonish. We used a smoker on set to produce a giant gas cloud then colored it green in post."
Assisted Fishing joins a list of Hollywood classics which made good use of fart jokes, including Blazing Saddles, Caddyshack, and Airplane!
"Assisted Fishing" is available for streaming for $2.99 and on DVD from http://www.AssistedFishing.net and is also available on Amazon.