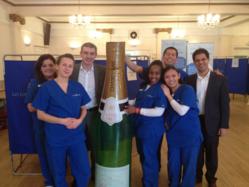 Up to 1 million people in the UK are thought to be unknowingly living with Chronic Kidney Disease.
Worthing, UK (PRWEB UK) 14 March 2013
Life Line Screening, the UK's leading provider of community-based preventive health screenings, is partnering with Nova Biomedical, to provide free kidney screening tests to customers across the UK on World Kidney Day.
This year, World Kidney Day (WKD) is being promoted on the 14th March. Organised by The Kidney Alliance in the UK, WKD aims to educate and raise awareness of kidney disease prevention and the importance of healthy kidneys on overall health and well-being. This is a key consideration within the UK, where 1.8 million people currently suffer from Chronic Kidney Disease, and up to 1 million are thought to be unknowingly living with the condition.
Current figures suggest that over 3 million people across the UK are currently at risk of kidney disease. However, though there are certain factors (e.g. Family history and ethnic background) which can have an impact - an individual's risk can be dramatically reduced by being aware of associated risk factors (e.g. Diabetes and high blood pressure), enlisting healthy behaviours (e.g. Stopping smoking, regular exercise and healthy eating), and by taking preventive action (e.g. health screenings and flagging suspected symptoms to your GP). This is reinforced by this year's core focus for the campaign - Acute Kidney Injury (AKI), a largely unknown disease but one which, with early diagnosis, could be reversible in approximately 50% of cases.
During WKD, the Kidney Alliance aims to address this lack of awareness - not only by reminding health practitioners, Government officials and policy makers of the need for improved kidney services, but more crucially, by educating individuals and encouraging a proactive and responsible approach to health.
Elisabeth Wagster, from medical partner Nova Biomedical said, "We are proud to be working in collaboration with Life Line Screening on World Kidney Day. This screening programme has a vital role to play in raising awareness of Chronic Kidney Disease amongst the general public and will help to educate people in making healthy lifestyle choices and inform of the risks involved by not receiving early treatment."
This year, in partnership with Nova Biomedical, Life Line Screening is doing its part to increase kidney disease prevention awareness around World Kidney Day and encourage a proactive approach to health by offering free kidney screening tests to customers visiting its preventive screening events across the country. Participating locations include;

Merton Park Baptist Church, London SW20 8TE
St Marys Church Hall, Ferndown, Dorset BH22 9EU
The Westville Hotel, Enniskillen, Fermanagh BT74 6HR
Tibenham Community Hall, Near Attleborough, Norfolk NR16 1NX
Blackfriars Hall, Newcastle upon Tyne NE1 2TQ
St Francis of Assisi, Kenilworth, Warwickshire CV8 1HL
Neston Masonic Hall, Neston, Cheshire CH64 9QB
The Gorse Hill Community Centre, Swindon SN2 8DA
Life Line Screening UK's clinical manager, Dr Mohsen Chabok said, "At Life Line Screening, we are committed to raising awareness of vascular disease and promoting public health by preventive measures. Vascular disease encompasses a number of conditions including, coronary heart disease, stroke, diabetes and kidney disease. Due to shared risk factors, having one of these conditions puts individuals at an increased risk of suffering from others. Therefore, taking action at an early stage to reduce these risk factors can make a huge difference to the onset and progression of the disease which will subsequently reduce the risk of vascular disease."
Take a proactive approach to your health and show your support for World Kidney Day by participating in an event near you, learning more about the associated risk factors and positive health behaviours, or scheduling a preventive health screening at a location near you.