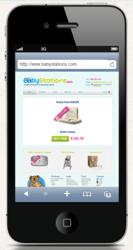 (PRWEB) March 18, 2013
Noted online store for baby changing stations Babystations.com, is making significant enhancement of their business according to the changing demands of the market. The company has just introduced a new mobile version of their website, compatible with all handheld mobile devices and tablets. Latest market trend shows a significant increase in business transactions taking place over the mobile devices in the last few years. As a result, many businesses have now made this all-important transition to stay connected with the market that now gone mobile.
A recent market analysis report reveals that Smartphone and Tablet devices accounted for purchases worth $25 billion throughout the United States in the year 2012. This is an 81% increase compared to the figure for 2011. The report further states that more than 11% of the overall e-commerce sales for 2012 were done using mobile devices, and this figure is expected to rise to 15% by the end of this year. This noteworthy market change has been brought about the increasing number of Smartphone users in the country.
Announcing the launch of the company's mobile website, the co-founder of Babystations.com Cameron Wilson said, "This was extremely important for us because Babystations.com receives 35% of its overall traffic from mobile devices. A mobile website is different from the traditional ones in many ways. Our mobile device compatible website is the scaled down version of the regular one, both in terms of content and size so that mobile users find it easier to navigate on their smaller screens." He also mentioned that this new website will help them meet the needs of busy customers under tight deadlines.
About the Company: Babystations.com is one of the most trusted online stores for all reputed brands of baby changing stations. The store has just announced the launch of their new, mobile website.