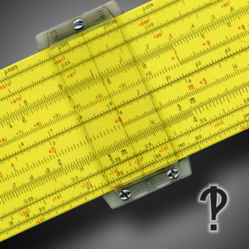 Slide rules are simply cool. Happy Pi Day!
Minneapolis, MN (PRWEB) March 14, 2013
The Interrobang Group is putting its five-star rated Virtual Slide Rule on sale March 13-17 in honor of Pi day (March 14). Normally $4.99, during the Pi day sale it will be available for $2.99. The Virtual Slide Rule is an iPad-only app that duplicates a slide rule perfectly. It is fully documented with instructions on how to use slide rules, and links to further information about them.
Users give it five stars in the Apple App Store:
"This is an excellent electronic slide rule. It is easy to use and has a reasonable number of scales. It is perfect for the novice or collector." (Boyle67, Oct 29,2011)
"This is really a fantastic app. It works exactly like the real thing, and it is terrific to look at. It's a great app for a math or science teacher to show to his class. This app keeps a part of math history alive. I love it." (Winton Teter, Jun 29, 2011)
"It's not just for geeks anymore! The 'Virtual Slide Rule' app has instructions so even people not familiar with how to use one can learn – like me. Always wanted to know & now I can." (coolshades2002, Apr 11, 2011)
Bob Gordon, co-founder of the Interrobang Group said, "Slide rules are simply cool. I'm happy that our virtual one has been well received. We wanted to price it at $3.14 for the sale, but the App Store won't allow that. Everyone should thank Apple for the extra fifteen cents savings."
Pi day celebrants can learn more about the Virtual Slide Rule at http://interrobanggroup.net or at the App Store at http://itunes.apple.com/us/app/virtual-slide-rule/id426754098.
###