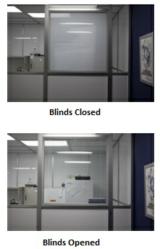 Burnsville, Minnesota (PRWEB) March 14, 2013
Gerbig Engineering, a company that specializes in the design, fabrication, installation and validation of cleanrooms, announces a new Integrated Blind system available for use with the AireCell ™ line of walls. The blinds fit into AireCell extrusions with an extruded PVC part. The blinds are closed or opened from outside or inside the cleanroom or both. The blinds are contained inside glass panels. Roger Danson from Gerbig Engineering headed up the project.
Blinds are dust collectors and need to be cleaned with regular frequency. Because of the slated structure, cleaning can be difficult. By containing the blinds within a glass enclosure, the need for cleaning is eliminated along with a potential contamination source. The integrated blind system is easily installed in an AireCell™ Modular Cleanroom.
"Our goal has been to create modular solutions that enhance cleanroom controls, improve efficiency of cleanroom operation and are easily installed in our AireCell™ system". Said Fred Gerbig, President of Gerbig Engineering. "The integrated blinds are just one of the many products we have created that meet this philosophy."
This product can easily be retrofitted into existing AireCell™ modular cleanrooms and can be customized to fit any size opening.
Gerbig Engineering is privately owned and operated and headquartered in Burnsville Minnesota. Gerbig has been creating cleanroom solutions for a variety of industries since 1985. Solutions include softwall and hardwall modular cleanrooms and cleanroom equipment such as pass-throughs, doors, and workstation and garment storage. The company also provides services that include cleanroom validation and certification. For more information, please go to their website http://www.gerbig.com or call 888-628-0056.