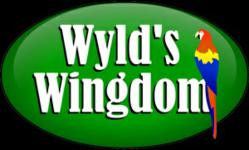 "These creative new designs are sure to spark excitement in your bird aisle. Get 'em while there hot!"
Norfolk, VA (PRWEB) March 14, 2013
Wyld's Wingdom is pleased to announce that they have added over 80 new products to their extensive line of wholesale pet bird supplies. These products, from avian industry leaders, kick off an exciting year for retail pet shop owners. Some of the new additions include pet bird toys from Aussie Creations, Planet Pleasures, and Super Bird Creations. In addition, they are thrilled to offer Global Pet Show New Product Showcase Winner Best In Show, Fetch-It Pets, Inc. Zoo Chews Foraging Bird Toys.
Specializing in avian care, Wyld's Wingdom offers retail pet shops a large variety of wholesale pet bird supplies to purchase at wholesale pricing. Products available for purchase include pet bird toys, bird foods, play gyms and stands for both small and large birds, cage accessories, training aids, educational tools, and more. With over 25 years of experience and expertise Wyld's Wingdom aids their retail customers in selecting appropriate products for their stores, and providing them with the latest information on pet bird care, safety, and avian wellness.
Mary Wyld, President of Wyld's Wingdom says, "These creative new designs are sure to spark excitement in your bird aisle. Get 'em while there hot!"
For more information about Wyld's Wingdom, visit http://www.wingdom.com.
About Wyld's Wingdom:
Wyld's Wingdom is one of the nation's largest wholesale pet bird supplies distributors. Wyld's Wingdom carries an enormous array of avian products including, bird toys, food, cages, and supplies. We only sell to retail stores and offer great values that customers can pass along in their retail setting. Our extensive expertise partnered with a tremendous selection of products, Wyld's Wingdom will provide the best information and advice to our customers on the latest pet bird care, safety, and wellness information. The business, established in 1986, has been built on integrity and service and we provide our customers with the variety, focus, and knowledge needed to make any bird department excel.