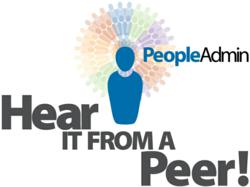 Austin, TX (PRWEB) March 13, 2013
PeopleAdmin, the leading provider of on-demand talent management solutions for higher education and government, will host a webcast entitled "A Breakthrough in Faculty Recruitment".
One of the most significant challenges Human Resources Professionals in Higher Education face today is managing the complex and often lengthy process for faculty recruiting. Many institutions believe that faculty members will be adverse to some of their ideas to gain efficiency and to utilize tools and technology for improvements. But in reality, most faculty members are highly responsive to automation and quickly become advocates of the new process. They soon realize that automation is the key to their institution's faculty recruitment goals.
Stephanie Taylor will discuss how Oregon State University's human resource department expanded the automated recruiting process to include faculty hiring and how the organization achieved a new level of efficiency and ensured their faculty hires met the institution's recruitment goals.
Complimentary Webcast Details: "Breakthrough in Faculty Recruiting", featuring Stephanie Taylor, HR Manager, Strategic Staffing & Workforce Planning, Oregon State University and Valerie McDonough, Strategic Consultant for PeopleAdmin.

Date: Wednesday, March 27, 2013
Time: 1:00 pm - 2:00 pm CST
Register Now
Oregon State University will discuss:

Innovative ways to ensure faculty members adopt new processes and see value - how to advocate.
How you can successfully move from a centralized to decentralized hiring system and empower faculty recruiters.
Best practices in developing selection criteria and procedures for screening and interviewing candidates before the positions are advertised.
How to create an efficient and successful partnership between HR and faculty.
How to remain flexible to reformulate your talent management program to support new infrastructure, processes and reorganizations.
About PeopleAdmin
Founded in 2000, PeopleAdmin leads the way in providing cloud-based talent management solutions for higher education and government. PeopleAdmin solutions enable clients to streamline the hiring process; onboard new employees; efficiently manage positions and employee performance; develop compliant, defensible audit trails; and utilize industry-leading reporting and metrics. Our offering includes applicant tracking, position management, onboarding and performance management. Delivered through a software-as-a-service model, PeopleAdmin solutions are rapidly deployed, easy-to-use and supported through a world-class customer service organization. More than 700 leading organizations throughout North America use PeopleAdmin solutions to gain talent management efficiencies while minimizing risk.