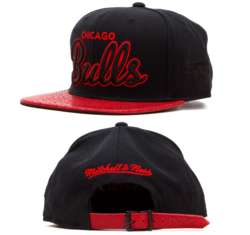 Boston, MA (PRWEB) March 13, 2013
March 13 2013 - Karmaloop.com, the leading web retailer for streetwear and urban clothes, today announced an exclusive offering from Bespoke Cut & Sew, the California custom hat company.
"Bespoke Cut & Sew has created a capsule collection of customized strapback hats exclusively for sale on Karmaloop.com," said Greg Selkoe, Karmaloop founder and president. "The Bespoke Cut & Sew for Karmaloop Collection features hats for the Brooklyn Nets, Chicago Bulls, San Jose Sharks and Oakland Raiders. This is some pretty dope headwear - fans won't be disappointed."
The collection features Mitchell & Ness hats that Bespoke has customized with faux skins and custom fabrics. Each wool-blend hat features an embroidered team logo on the front and a signature Mitchell & Ness embroidered logo on the back.
Based in Rancho Cucamonga, CA, Bespoke has quickly become one of the hottest names in hip hop hats and customized hats, transforming snapbacks and strapbacks with fabrics like leathers, silks and suedes into some of the most sought-after headwear in the industry. "Bespoke is the big name in streetwear hats right now," said Selkoe. "They specialize in producing one-of-a-kind hats with hand-sewn bills and custom fabrics that are designed to customer specs. They've put together a pretty unique collection for Karmaloop."
Fans of Bespoke hats and the four teams in this collection can purchase hats from the Karmaloop collection at http://streetwear.karmaloop.com/klcontent/plus/bespoke-cut-sew-for-karmaloop.
About Karmaloop.com
Karmaloop.com is the leading online retailer for global urban clothing and streetwear, with more than $130 million in annual sales. Karmaloop receives more than 4.5 million unique visitors from 40 countries each month, and retails more than 500 brands designed for the "Verge Culture" -- a multicultural demographic that is 18 to 34 years-old and often referred to as the first generation that grew up with the Internet. Founded in 2000, the Karmaloop family of websites today includes the internet television station KarmaloopTV, the women's fashion site MissKL, the menswear boutique Boylston Trading Company, the flash-sale site PLNDR, the online skateboard retailer Brick Harbor, and the independent marketplace Kazbah.