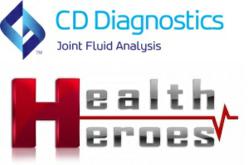 Wynnewood, PA (PRWEB) March 15, 2013
CD Diagnostics announced today that they will be featured in an upcoming episode of Health Heroes.
Located in Wynnewood, PA, CD Diagnostics is a leader in joint fluid analysis. The company's scientific founder, Carl Deirmengian, MD, discovered the existence of unique genetic signatures for joint disease and infection, as indicated by the presence of various biomarkers in synovial (joint) fluid. By identifying and measuring these unique biomarkers, CD Diagnostics is able to develop a series of new products to diagnose joint disease with greater accuracy and speed than other tests currently available. The company's first joint infection test, marketed as Synovasure™, was released as a laboratory developed test in November 2012 and continues to receive tremendous positive feedback from the orthopaedic community. A point of care device that will diagnose joint infection at the bedside is currently being developed, and the company plans to release this test in Europe later this year.
Matt Monaghan, Global Vice President of Zimmer Hips, commented that, "The early detection and treatment of infection is critical to successful clinical outcomes. We believe Synovasure™ will enable surgeons to quickly and accurately identify patients presenting with infection through a simple, streamlined process."
This particular episode of Health Heroes will educate our viewers about the impact of CD Diagnostics' game changing technology for the orthopaedic community. The company's pipeline of tests will be the first simple, standardized, analytical devices available for joint fluid analysis. The Health Heroes feature will explain CD Diagnostics' biomarker screening program, patented technology, and its core strengths in immunoassay development and manufacturing. Through the combination of its CLIA laboratory, Citrano Medical Laboratories, and its strength in immunoassay development, CD Diagnostics is able to develop diagnostic tests for a broad range of joint diseases including infection, rheumatoid arthritis, osteoarthritis, and companion diagnostics in a simple, rapid, and accurate format.
Testing services for Synovasure™ LDT, the company's joint infection test, are provided through CD Diagnostics' CLIA lab in Towson, Maryland. Results are turned around to physicians within 24hrs.
Richard Birkmeyer, CEO of CD Diagnostics stated, "We are very excited about our feature on Health Heroes. We believe that our breakthrough technology will have a tremendous impact on the orthopaedic community and are pleased to shed light on joint infection, a serious condition that negatively affects joint replacement patients worldwide."
"When discussing technology, the true marvels today are happening behind closed doors," said Michele Nehls, producer for the Health Heroes series. "I'm proud to be able to bring an inside perspective to the Health Heroes audience."
About CD Diagnostics:
CD Diagnostics is a leader in joint fluid analysis focused on developing novel diagnostic tests for joint disease. The Company aims to improve patient outcomes through innovative technologies that provide more accurate and rapid diagnosis for joint pain and infection. As part of its commitment to joint fluid research, CD Diagnostics is creating a repository of joint fluid samples from a global network of physicians to facilitate biomarker screening services for synovial and spinal fluids. Combining biomarker identification with patented technology and expertise in immunoassay development and manufacturing, CD Diagnostics is developing a range of products that address challenging diagnostic determinations in joint health and therapeutic outcomes.
For more information, visit: http://www.cddiagnostics.com or call (484) 476-4800.
About Health Heroes:
Health Heroes is a powerful TV series dedicated to defining and exploring today's latest medical advances in all areas of health and wellness. Written with both the industry professional and television audience in mind, Health Heroes educates, entertains and enlightens the lives of our viewers.
For more information visit: http://www.dmgproductions.org or call (866) 496-4065.
Media Contact:
Michele Nehls, Executive Producer - Health Heroes
DMG Productions
(866) 496-4065 x 822