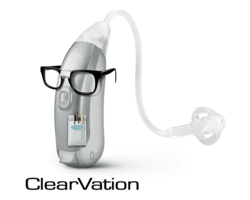 Plymouth, MN (PRWEB) March 13, 2013
The all-new ClearVation technology platform accommodates a broad range of hearing losses, personal preferences, and lifestyles as it is available in two solution levels and four models. Notably the ClearVation RIC model provides industry leading functionality and capabilities that offer wearer's a one of a kind listening experience. "The ClearVation RIC's discreet size, coupled with the versatile technology features delivers a superior product, "said Rebecca Younk, Audiologist for Miracle-Ear. "It offers an exquisite balance of comfort and clarity, which provides wearer's a natural and effortless hearing experience and reviews of this new Miracle-Ear platform have been extremely positive."
ClearVation RIC technology learns the wearer's individual preferences and delivers just-right amplification levels, while preserving natural acoustics for a hearing experience like no other. The exclusive Miracle-Ear ClearVation RIC delivers a comprehensive combination of industry leading features including:

Discreet size: The remarkably transparent size is packed with technology innovations.
miniReceiver 2.0: Provides exceptional sound quality with four power levels, suitable for a wide range of hearing losses.
Element resistance: Achieved industry IP67 rating, the device is water and dust resistant, with the ability to uphold during active lifestyles.
Integrated telecoil: Directly connect to public sound systems located in churches or theatres.
Rechargeable: The ability to quickly recharge, eliminating the need to replace standard batteries.
Programmable user controls: Flexibility in user control options with the choice between a push button or rocker volume control switch.
"The new ClearVation RIC product offering marks a milestone in advanced hearing technology," said Diana Beaufils, Senior Vice President Miracle-Ear. "This type of product innovation allows us to offer an industry leading hearing aid and is what sets Miracle-Ear apart as the premier hearing solution provider."
Miracle-Ear offers a complimentary, comprehensive hearing test that includes a complete hearing health history, visual ear canal inspection and a comprehensive diagnostic hearing evaluation. If test results indicate a hearing loss, Miracle-Ear tailors a hearing aid solution to the individual's lifestyle; working with the customer to determine which solution best meets his or her individual needs.
For more information on Miracle-Ear and the ClearVation RIC, please visit http://www.miracle-ear.com/.
About Miracle-Ear
A trusted resource for hearing solutions for 65 years, Miracle-Ear uses state-of-the-art technology to remove the barriers of hearing loss. The Plymouth, Minn-based company specializes in customizable hearing solutions that feature discreet, comfortable products designed to meet each individual's hearing loss needs. Free hearing tests are available at all of the company's 1,200 franchised locations across the U.S. Franchise opportunities are available for those interested in running their own Miracle-Ear business with the support of a nationwide industry leader. For more information, visit http://www.miracle-ear.com. You can also learn more about Miracle-Ear Reviews by reading our testimonials online.
###