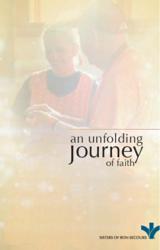 When we experience our own woundedness and God's total love, we are empowered to love others in their brokenness. - Sister Nancy Glynn, CBS
Baltimore, Maryland (PRWEB) March 14, 2013
The Sisters of Bon Secours have released their prayer book titled An Unfolding Journey of Faith. The theme for this year's prayer book was inspired by the sisters' wish to share how providing service to others also unfolds a personal journey of faith within those who serve. Featuring anecdotes from the sisters, young adults from their ministry volunteer programs and women discerning a call to religious life, the writings give daily reflections and prayers.
The writers share their own evolving journeys of faith. Contemplating upon their individual experiences with God, they share their discovery of God's love and compassion. The book's opening reflections starts on Sunday with Sister Nancy Glynn, CBS, sharing her experience, "When we experience our own woundedness and God's total love, we are empowered to love others in their brokenness," she writes. "I have felt this love unfold in my ministry, as God works His healing powers through my efforts."
Commemorating the 189th anniversary of the foundation of the Sisters of Bon Secours, the 26-page prayer book was distributed throughout the Bon Secours Health System, including emergency room waiting areas, offering spiritual guidance and comfort to patients and their families as they often face difficult times. The booklet has also been given to 23,000 employees, board members, volunteers, associates and women considering religious life.
Coinciding with the release of the prayer book, the sisters have also added a new Facebook prayer page, http://www.facebook.com/PrayerWithBonSecours. The Sisters of Bon Secours welcome those who wish to ask for prayer and extend an invitation to join them in sharing answered prayers and reflections. "God wants to teach me so much: about His love, His mercy, and His plans," states contributor Barbara McClain, "If I openly and humbly listen, God will help me understand."
The Sisters of Bon Secours invite you to view An Unfolding Journey of Faith and to download a digital copy (http://bonsecoursvocations.org/pray-with-us/your-prayer-corner/2013-prayer-book/) or request a hard copy sent by mail.
About the Sisters of Bon Secours: As an international congregation of Catholic sisters they have long had a heart for providing health care, social services, education, and spiritual comfort to disadvantaged communities since their inception in 1824 when they nursed the sick and the dying in their homes. Today, their holistic approach to caring for all of creation equips the Sisters of Bon Secours to spread wholeness and God's love throughout the world in the eight countries they are present. For more information on discerning a vocation to religious life please visit http://BonSecoursVocations.org, email CBSVocations(at)bshsi(dot)org or call 410-442-3172.