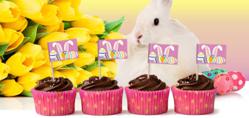 Atlanta, GA (PRWEB) March 13, 2013
An original selection of decorative Easter-themed holiday toothpick flags sporting the Easter Bunny, bunny ears, brightly colored eggs, or Easter baskets are all available at very affordable prices at ToothpickFlag.com, to lend a festive flair to food platters for all types of Easter gatherings for families, friends, and events.
For those with creative flair and artistry, ToothpickFlag.com welcomes special custom orders by simply uploading artwork directly through the website. Caterers and home cooks alike appreciate the ease of this custom order option and the cachet the finished product lends to their events. Toothpick flags are available in the standard 1.5" x 1" size in packs of 100, 50, or the 3.5" x 5" jumbo size available in packs of 12.
A new addition now includes a long toothpick option for those big burgers or cakes at 4 3/4" or 6" lengths as well as toothpick flag stands that work nicely for table centerpieces.
Dress up this year's Easter table with eggs-traordinary decorations made exclusively for you.
About The Flag Company, Inc.
As the largest online flagpole supplier, The Flag Company, Inc. offers a complete range of flags and flag-related products in addition to its line of flagpoles and signature Flagpole Beacon. Custom screen-printing and digital printing are available for special events, corporate logos, etc. Stock merchandise includes U.S., state, international, and military flags, and all types of accessories such as bunting, memorial cases, pennants, and more. The Flag Company, Inc. is the nation's largest producer of message flags, offering over 300 different messages used by realtors, restaurants, car dealerships, and any other kind of company imaginable. Toothpick flags—both stock and custom-made to order— are also available. The complete product line can be viewed at http://www.flagco.com. "Feel Good Light-Ups," a decorative light lens for fluorescent light fixtures, are now so popular there is a dedicated website at http://www.feelgoodlightups.com. Flagpoles and Flagpole Beacons are featured at http://www.flagpolewarehouse.com. Toothpickflag.com has a wide selection of toothpick flags for any occasion, party or corporate event, with a custom department for that one-of-a-kind special design.