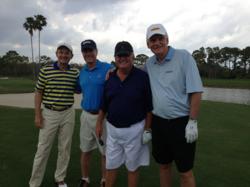 Waterfront Properties and Club Communities commends Ranch Colony, the men and women who attended and supported the gala and golf events, and Urban Youth Impact's for its contributions to the community.
Jupiter, FL (PRWEB) March 16, 2013
A scramble-format golf tournament that took place Feb. 25 at The Dye Preserve Golf Club in Ranch Colony benefited the local nonprofit organization Urban Youth Impact.
The first-place team in the charity links event was Preferred Printing & Graphics, of North Palm Beach, led by Tim Gonyer, Wes Goodale, Richard Gray and Doug Roberson. While none of the volunteer players in the field hit a hole-in-one, KC Elmore, of Stuart, won closest-to-the-pin. The course in Ranch Colony is one of two challenging and entertaining places to play, the other being Jonathan's Landing Golf Club at Old Trail. The entire development in the western confines of northern Palm Beach County features five large-lot subdivisions with equestrian trails, a private airstrip and acres of preserved greenspace with mature trees and serene ponds.
The tournament succeeded an elegant gala that took place the previous night – the same night as the 85th-annual Academy Awards. Urban Youth Impact put on an Oscar-worthy ceremony of its own at the Kravis Center in West Palm Beach.
The theme of the event was "Illuminate – Cultivate – Change their fate," and it transported guests to the inner city and showed them how nurturing and cultivating the children who live in it can change their lives forever.
The gala took place in the J. Ira and Nicki Harris grand hall, which was set up with a silent auction featuring items inspired by Palm Beach and its famous resident, Lilly Pulitzer. The dinner portion of the gala took place in the Gimelstob Ballroom and included an exciting live auction, also with a preppy island vibe. One of the items, a pink-and-green beach-cruising bicycle, snatched $6,500.
Keeping the Oscar theme going, the audience of more than 200 collectively earned the Best Performance by Donors to Urban Youth Impact award for helping to generate $345,000. Proceeds will help Urban Youth Impact's mission of creating positive programs and services for local children and families.
The Best Sponsor award went to TBC Corporation, a tire-marketing company near the neighborhoods of Palm Beach Gardens homes for sale. TBC Corporation donated $25,000. Other sponsors were Florida Power and Light, near the neighborhoods of Juno Beach homes for sale, Steve and Apryl Scalici, owners of one of the homes in Jupiter and (in alphabetical order) Andrew Aran, of Regency Wealth Management, Barbara Bryant, BB&T, Beyond Organic, BMC Ferrell, Celedinas Insurance Group, Cemex, Christ Fellowship Church, Merrill and Lorraine Eastman, Larry and Rogene Ellis, Tom Ennis, of Morgan Stanley, Sherman Goodrich, Hand of Hope / Joyce Meyer Ministries World Missions, Gib and Pam Harris, ING Employee Benefits, Jaguar Palm Beach, Tom and Kathleen Lane, Messenger International, Multi-Media Productions, the late Harding and Gerry Mott, PIMCO Investments, Phil Row Signs, Richard and Valette Porter, Sam and Betsy Reeves, George and Flora Renaldi, Road Less Traveled, Roadway Tire, Salvation Tree, Seyfarth Shaw, Lewis and Linda Townsend, Tranquil Water Sports, Karl and Faith Watson, Skip Whitley and Emmy Crispin Wolbach.
Guests came from all over the county – from Lost Tree Village in North Palm Beach west to Royal Palm Beach and Wellington. Among the list of notable attendees were Steve and Lynne Barney, Dick and Wendy Bingham, Anushka Blau, Suzanne Dansby, Peter and Jane Elebash, PGA Tour player Tom Gillis and wife Jenny, Clark and Joan Johnson, Carroll and Astrid Peacock, and Joe and Mary Webster.
The Best Performance award went to the children from Urban Youth Impact's Leadership Academy, who took turns singing and dancing to a Christian music number. The Best Short Film award went to Halo Motion Pictures, which produced a three-part movie depicting the life of a boy who was "rescued" by Urban Youth Impact. Carrie Dzama was named the annual "Shining Star" for outstanding service.
The event's honorary chairs, Mitchell and Kate Watson, received the Best Actor and Best Actress awards for their leadership roles in Urban Youth Impact.
Waterfront Properties and Club Communities commends Ranch Colony, the men and women who attended and supported the gala and golf events, and Urban Youth Impact's for its contributions to the community. Since 1997, Urban Youth Impact's programs have grown to include a parent program, a year-round work program, Summer Jam and two annual outreach events: the Back-to-School Bash and the Christmas Store. For information, call 561-832-9220.