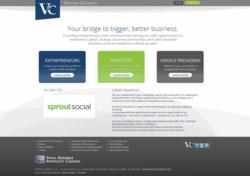 We saw a unique opportunity to link venture capitalists, entrepreneurs and business professionals. We strive to help businesses succeed and ultimately create more jobs for the economy.
(PRWEB) March 15, 2013
Venture Connects is an online platform that connects experienced business professionals, entrepreneurs and investors, with an opportunity to engage in strategic business endeavors and also provides exclusive discounts from accredited service providers. Whether you are looking to start a business, expand what you already have or invest in the next big thing, Venture Connects can help you get there.
At Venture Connects they focus on linking the right people. They work to connect business owners with qualified investors to ensure the proper growth that a business needs as well as exposure to service providers who allow exclusive discounts. The main goal of Venture Connects is to help businesses succeed and whether they are start-up or up and running, they provide the resources to do so. Not only is Venture Connects working on getting each business set up with the right people but they are here to help after the connections are made. VC provides all its members with a variety of tools to enhance their experiences such as webinars, live meet-and-greet events, and a frequently updated blog containing tips and additional resources. While VC is located in and has a large amount of venture capitalists, business owners and service providers in Chicago they do not limit themselves. They work to serve businesses nationwide.
Venture Connects understands that in the process of starting and gaining business you must be unique and differentiate yourself from the others. Knowing that, VC sets themselves apart from other online platforms because they gain no equity from relationships that are established and host no hidden fees. Their revenue comes solely from membership fees that service providers and business owners pay. The investors do not pay a membership fee however they must pass a rigorous screening and accreditation process from the VC legal team. Once they pass they hold a SEC level accreditation to ensure business owners that the investors are who they say they are.
To learn more about Venture Connects and how you can become a member of their national platform please visit their website http://www.ventureconnects.biz.