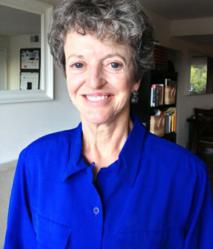 "I am surprised and so pleased to have this recognition 15 years after Abstract Expressionism: Other Politics was published," said Gibson.
Santa Fe, New Mexico (PRWEB) March 13, 2013
The Georgia O'Keeffe Museum announces the spring events in association with the Research Center Book Prize winner for 2012, Ann Eden Gibson, Professor Emerita, University of Delaware, for her book Abstract Expressionism: Other Politics (New Haven: Yale University Press, 1997).
The Georgia O'Keeffe Museum Research Center Book Prize program began in 2009 and offers cash prize of $5,000 every three years to the author(s) of a book on some aspect of American modernism (late nineteenth century to the present), including architecture, criticism, design, methodology, painting, photography, sculpture, and related subjects, published from the mid-1980s to 2009. The book is chosen for its significant contribution to shaping current thinking about the arts that did not necessarily receive recognition at the time of its publication. The award is based on excellence, originality, quality of writing and scholarship, contribution to knowledge, and significance to the field.
Gibson's book was chosen by a committee of distinguished American art scholars, including jurors Patricia Hill of Boston University, Michael Leja of the University of Pennsylvania, Kathleen Pyne of the University of Notre Dame and Jonathan Weinberg, an independent scholar and curator.
"I am surprised and so pleased to have this recognition 15 years after Abstract Expressionism: Other Politics was published," said Gibson. "I realized as the years went by and the book continued to not only sell, but its arguments and 'other' artists appear in exhibition catalogues and textbooks, that it was going to be a slow burn. After its original impact, though, I never dreamed that there would be recognition of it at this level. I am very grateful to the Georgia O'Keefe Museum Research Center and to the distinguished jurors who recognized this and awarded me this extraordinary prize."
On Thursday, March 21, 2013 at 6:00 pm, Gibson will be presenting a public lecture to discuss some of the adventures and realizations involved in writing the book which was intended to challenge the established definition of abstract expressionism, a major 20th-century art movement.
On Friday, March 22 at 3:00 p.m., there will be a panel discussion with Gibson, which includes Lucy Lippard, Janet Dees, Joseph Traugott, and Kymberly Pinder. The panel will present and discuss images of diversity which have personal meaning to each of them.
Both events have an entry fee of $5 and will take place at the Museum Annex, 123 Grant Ave, Santa Fe, NM 87501. Reservations are suggested: 505 946 1039. Members and Business Partners free.
The award has been funded by several anonymous donors and the Margaret and Raymond Horowitz Foundation.
ABOUT THE GEORGIA O'KEEFFE MUSEUM:
The Museum is dedicated to the artistic legacy of Georgia O'Keeffe, her life, American Modernism, and public engagement. The Museum's collections, historic properties, exhibitions, Research Center, publications, and education programs contribute to scholarly discourse and inspire diverse audiences. Located in Santa Fe, NM, the Museum's collections, exhibits, research center, publications and education programs contribute to scholarly discourse and serve diverse audiences. The largest single repository of the artist's work in the world, it is the only museum in the world dedicated to an internationally known American woman artist and is the most visited art museum in New Mexico.
ABOUT ANN EDEN GIBSON:
Ann Eden Gibson writes on Modern and Contemporary Art and is best known for her work on Abstract Expressionism. She holds an M.A. in Ceramics from Kent State University and taught studio art for ten years before beginning her M.A. in Art History at the University of Pittsburgh, where she received the Distinguished Alumna Award for 1995. She received her Ph.D. in 1984 from the University of Delaware and has taught at the University of Pittsburgh, Yale University, the State University of New York, Stony Brook, and UCLA, and has held fellowships at the Metropolitan Museum of Art, the Center for Studies in the Visual Art at the National Gallery, the Smithsonian, and the Getty Research Institute. Gibson won a Guggenheim Fellowship in 2006.
Interested in the interaction of vision and language in the production of culture and identity, Gibson meshes ideas from fields such as literature, psychology, anthropology and philosophy with close examination popular culture as well as works of art to look at how art affects culture and how culture is reflected in art. She specializes in art after World War II, teaching courses in Semiotics, Abstraction, Allegory, Cross-Cultural Art, Pop Art, Minimalism, Feminist Theory and Contemporary Women's Art, and Postmodernism.
Gibson is the author of Issues in Abstract Expressionism: The Artist-Run Periodicals (1990) and Abstract Expressionism: Other Politics (1997). She co-curated Judith Godwin, Style and Grace for the Museum of West Virginia (1997) and Norman Lewis: The Black Paintings, 1946-1977, at the Studio Museum in Harlem (1998). She has written catalogue essays for exhibitions at the Albright-Knox Art Gallery, the Fort Wayne Museum of Art, the New Jersey State Museum, the Corcoran, Kenkeleba Gallery and the New Museum, and The Kunstmuseum Basel. With Stephen Polcari she guest-edited an issue of the Art Journal, and her articles have appeared in journals such as Studio International, Kunstforum, The International Review of African American Art, Artforum, American Art, Genders, The Journal of Homosexuality, Yale Journal of Criticism, Arts Magazine, Third Text, and anthologies published by the University of Chicago, Cambridge University Press, Harper Collins, Routledge, and the University of Liverpool Press.
###