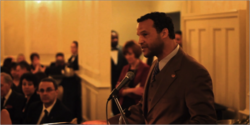 Making the responsible decision to practice waste diversion is extremely beneficial for the environment and others in our community.
Fairfield, NJ (PRWEB) March 13, 2013
Stephen Bienko owner of College Hunks Hauling Junk North Jersey, partners with Habitat for Humanity to promote the environmental and social benefits of reuse and recycling.
Mr. Bienko describes his involvement with Habitat for Humanity as an opportunity to contribute to two great causes through partnerships and teamwork. "Recycling and reusing unwanted items are positive efforts that benefit the environment and those in need. Both of these actions are especially important today when we are seeing a staggering rise in pollution and live in a struggling economy," said Stephen Bienko.
As the most prominent franchise owner of the College Hunks brand Mr. Bienko continues to educate communities on the importance of recycling, reusing and conserving products. This "waste diversion" is crucial because it avoids the use of landfills that can pollute the surrounding residential areas.
Waste diversion is the process of minimizing the amount of items sent to congested landfills and junkyards by utilizing the three R'S; reduce, reuse and recycle. Being conscious of waste diversion has led College Hunks Hauling Junk North Jersey to donate or recycle 70% of the items they pick up everyday. "In recognizing the many benefits of waste diversion we donate over 200 tons of furniture to the Morristown ReStore every year," said Stephen Bienko. Habitat for Humanity accepts donated furniture, appliances and building supplies at their ReStore outlets throughout the US and Canada. Proceeds from the resale of items at Restore outlets help fund Habitat for Humanity programs.
Morris Habitat for Humanity acknowledged Stephen Bienko as a true humanitarian on February 23, 2013 at the 8th Annual Hearts and Hammers Gala. He was presented with the revered Stewardship Award in recognition of his outstanding commitment to the organization. "Everyday I come across furniture and other household items that are one step away from being thrown into local landfills. By bringing slightly used items to ReStore they're given a second chance and go to families who deeply appreciate them."
Spring is quickly approaching and is an excellent time to clean and rid your home of unused furniture and appliances. Making the proactive decision to responsibly dispose of these items helps the environment and others in your community. Services such as College Hunks Hauling Junk fully facilitate this process by removing, donating and recycling bulk items. For additional information please visit the College Hunks Hauling Junk Habitat page.