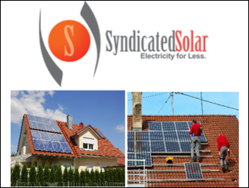 "Our company as whole is quickly approaching 50 employees and we continue to add people in all aspects of our business." said Justin Pentelute, C.E.O of Syndicated Solar
(PRWEB) March 22, 2013
In less than a decade, Colorado has witnessed a massive boom in their solar power industry across the state, and with it the addition of hundreds of new quality jobs. Colorado currently employs about 6,200 workers in the solar industry, and that number is only climbing. In the past four years alone, the number of solar power companies within the state rose from approximately 40 to more than 246 today.
The Western Slope, especially Mesa County, is seeing job growth significantly outpace national rates. Areas like Grand Junction, Colorado receive a great amount of sun for solar production, are averaging 10 new solar installations per week. Companies like Syndicated Solar, who started their operations in Grand Junction and now operate across several states in the country, are a large part of the solar boom and have experienced first-hand the recent changes within Colorado.
"Our office in Grand Junction is currently employing 10 people directly, an additional 15 indirectly, and is looking at adding 8-10 people in the coming months. Our company as whole is quickly approaching 50 employees and we continue to add people in all aspects of our business." said Justin Pentelute, C.E.O of Syndicated Solar.
Several factors have driven the industry's expansion in Colorado and across the country. A combination of federal, state and local incentives, plus overall decreasing manufacturing costs have helped spur the rapid growth of the industry. But perhaps the largest contributing factor has come via improved financing methods that eliminate initial cost barriers and allow customers to switch to solar electricity for no money down and enjoy immediate savings. Innovative leaders within the industry, like Syndicated Solar, are experts at providing customers with financing solutions, which have successfully made solar power a reality for hundreds of families across the nation.
Colorado is certainly not the only state seeing positive employment reports. As more and more homeowners and businesses across the nation seek to utilize the many benefits of solar power, the industry is set to only continue its growth and job creation. Nearly 120,000 people are currently employed in the United State's solar power industry, with an increase of approximately 14,000 new jobs in just the past year.
These employment numbers come as good news to an otherwise stagnant American economy and job market. Since the Great Recession, experts have predicted that Green Tech would lead the charge in reviving the American economy. For many throughout the solar power community, optimism remains high as this dynamic industry continues to significantly grow everyday.
About Syndicated Solar
Founded in August of 2009, by CEO and owner, Justin Pentelute, Syndicated Solar has since grown into a nationally recognized leader in residential and commercial solar installations. They are dedicated to providing excellent customer service and high quality products at competitive pricing. They offer customers choices to buy their own solar system or take advantage of their PPA options. Headquartered in Denver, CO, they operate four fully functioning regional offices to increase customer service. For more information, visit http://www.syndicatedsolar.com/ or follow them on Facebook, Twitter or LinkedIn.