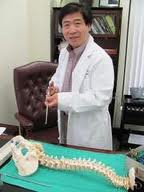 Pain and tenderness in the lower back and upper buttock area is characteristic of SI joint pain
West Orange, NJ (PRWEB) March 13, 2013
The sacroiliac joint (or SI joint) is a firm, thin joint located where the spine and the pelvis meet. Joints such as knees, hips, and shoulders are designed to undergo motion, but the sacroiliac joint is less mobile; however, it is essential for transferring the weight of the upper body to the lower body. The challenge for doctors is distinguishing whether the sacroiliac joint or something else is generating a patient's lower back pain.
"Pain and tenderness in the lower back and upper buttock area is characteristic of SI joint pain," notes Dr. Kaixuan Liu, founder of Atlantic Spine Center in New Jersey. "However, there is a risk for inaccurate diagnosis and treatment because patients can present with low back, groin, and/or gluteal pain." Also, back pain, sciatica, and hip arthritis can cause similar symptoms; the joint is not easily manipulated; and diagnostic tests often show up as normal. If other attempts fail, a physician may try an injection of local anesthesia into the area to confirm the SI joint as the pain generator.
According to a study by the Center for Spinal Stenosis and Neurologic Care that was chronicled last year in the Annals of Surgical Innovation and Research, low back pain (LBP) affects more than 90% of adults at some point and is the most common reason besides colds for primary care visits. Research conducted by the Department of Orthopaedic Surgery at the University of Minnesota showed that up to 30% of patients presenting with low back pain had sacroiliac joint problems.
How can you avoid injuring the sacroiliac joint?
SI joint pain is often inflammation (called sacroilitis) caused by repetitive activity or overuse. Up to 75% of post-lumbar fusion patients will develop significant sacroiliac joint degeneration after 5 years. Other contributing factors include: pregnancy, being rear-ended in a car accident, falling on your rear, heavy lifting, infection of the sacroiliac joint, arthritis of the SI joint, gout, and sprains of adjacent ligaments.
When should you consider surgery?
If conservative approaches such as rest, anti-inflammatory medication, physical therapy, and injections fail, patients may consider SI joint fusion, either performed as open surgery or a using a minimally invasive technique called iFuse.
iFuse surgery involves placing a series of triangular titanium implants placed across the SI joint. The fusion occurs over time, as bone growth provides permanent stabilization of the joint. Open procedures require relatively larger incisions, significant bone harvesting, extended hospital stays, and lengthier recovery time. iFuse surgery means a smaller incision and less tendon irritation, faster healing because of less invasion, and a shorter hospital stay (iFuse surgery is generally an outpatient procedure). According to Dr. Liu, "This method of SI joint fusion is especially beneficial for elderly patients who may not be the best candidates for other techniques due to poor bone quality, delayed healing, and reduced mobility."
What is the recovery process?
Patients generally use a walker for the first month after sacroiliac joint fusion. Once they return to full weight bearing, physical therapy is recommended for one month.
About Dr. Liu: Kaixuan Liu, M.D., Ph.D., is a renowned endoscopic spine surgeon and founder of Atlantic Spine Center in Edison, New Jersey (http://www.atlanticspinecenter.com).Dr. Liu is certified by The American Board of Pain Medicine and The American Board of Anesthesiology, and is a member of The International Society for Advancement of Spine Surgery, The American Society of Interventional Pain Physicians (ASIPP), The American Academy of Pain Medicine (AAPM), The International Intradiscal Therapy Society (IITS), and The American Society of Anesthesiologists (ASA). He also serves as an international surgeon for The Spinal Foundations in England.