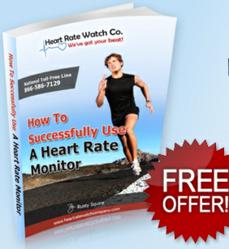 "Take a snap shot of your weight on a scale with your phone now and a snap shot in 60 days as proof", says Squire
Bozeman, MT (PRWEB) March 13, 2013
Using a Polar FT60 or a Polar FT40 heart rate monitor one can experience significant weight loss if they follow a new, simple, two step plan developed by the Heart Rate Watch Company.
"We've been recommending this plan to people for several years now and we know that it works because our customers have shared their success stories with us", says Rusty Squire, President of the Heart Rate Watch Company. He adds, "We have had hundreds of customers simply buy a Polar heart rate monitor and read my first book, "How to Successfully Use A Heart Rate Monitor" and apply the strategy".
"Polar has a much more accurate calorie count in our testing and it is the only heart rate monitor that reports both calories total and calories from fat based upon exercise intensity", says Squire. People just need to simply read the book, follow the strategies and use the tools, plus buy either a Polar FT40 or a Polar FT60 heart rate monitor according to Squire. He adds, "Just set aside one hour per day, 4 days per week and give yourself an hour of cardiovascular training or, if you'd like to speed up the weight loss, get in a two hour session over the weekends".
ELEVATING THE METABOLISM FOR 24/7/365 SUCCESS
Consistent exercise has been scientifically proven to elevate the body's metabolic levels around the clock says Squire. "I've talked to people that have gone through Canyon Ranches programs where they coach diet, aerobic activity and actually measure the calories burn at sleep using diodes", says Squire. He adds, "It's those extra calories burned around the clock from an elevated metabolism that are the key to success, that and increasing your intake of whole foods".
WE HAVE MET THE ENEMY - PROCESSED FOODS
"The ruination of the American diet in the past 50 years is the fault of all of America's largest food companies that add sugar, salt and other ingredients like hydrogenated oils to every piece of food they make", says Squire. He adds, "Prior to 50 years ago everybody had meals coming out of the garden, so it is no wonder that obesity rates were lower - we all ate right".
TAKE THE HRWC 60 DAY CHALLENGE - WIN A WAHOO SMARTPHONE SCALE
The Heart Rate Watch Company blog is issuing a 60 day challenge to lose between 10 and 20 pounds in a 60 day period. Simply follow the program outlined in the free e-book, "How to Successfully Use A Heart Rate Monitor". "Take a snap shot of your weight on a scale with your phone now and a snap shot in 60 days as proof", says Squire. Everyone that has lost between 10 and 20 pounds by July 4th, 2013 can enter and a random winner will be chosen from those who enter.