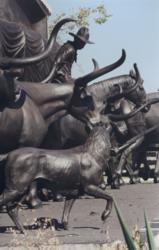 Storyteller and historian extraordinaire, John Dwyer's lecture will enthrall all listeners who yearn to know more about an important part of our great state's history- Duncan CVB
Duncan, OK (PRWEB) March 14, 2013
The Chisholm Trail Heritage Center will present John Dwyer, historian extraordinaire and his lecture will be "Boomer Stories", a series of colorful vignettes of Boomers of different races, genders, and socio-economics. Program will begin at 6:30pm on March 28th, reservations recommended as seating is limited.
In conjunction with the lecture, The Chisholm Trail Heritage Center will also be opening a new exhibit, C.P. Wickmiller's collection of canes on loan from the Chisholm Trail Museum in Kingfisher, OK. Wickmiller wanted desperately to make the trip from Kansas into Indian Territory, but he had no funds or transportation. He was one of those of the day who had taken up a hobbyist interest in photography, and he suggested that if he could get transportation for his photography equipment and personal belongings he would be happy to walk. One of David Payne's men replied that he could make those arrangements and could undoubtedly find a ride for Wickmiller. Payne was delighted to have a photographer along to record the journey for posterity. (David L. Payne: the Oklahoma Boomer by Stan Hoig)
In his later years Wickmiller moved to Kingfisher, OK where he became a pharmacist and amassed an impressive collection of canes.
Both the seminar and exhibit is funded in part by the Oklahoma Humanities Council.
John J. Dwyer, a seasoned author of both historical non-fiction and fiction, is also a popular speaker and longtime Adjunct Professor of History and Ethics at Southern Nazarene University. For nearly a decade, he edited and published the monthly Dallas/Fort Worth Heritage, with a circulation of around 50,000 copies per month. He is the former History Chair at a classical college preparatory school and radio host of programs on three 100,000-watt stations in Dallas.
His books include the non-fiction historical narrative The War Between the States: America's Uncivil War (third printing, December 2012), the historical novels Stonewall and Robert E. Lee, and the novel When the Bluebonnets Come. All remain in print. He is author of the upcoming historical narrative The Oklahomans: The Story of Oklahoma and Its People; endorsed by both the Oklahoma Historical Society and the Oklahoma Centennial Commission, and the upcoming historical novel Riding the Shortgrass Country.
During the Oklahoma Centennial, the Downtown College Consortium (the University of Central Oklahoma, Oklahoma State University-Oklahoma City, Oklahoma City Community College, Rose State College, and Redlands Community College) commissioned him to deliver a series of Oklahoma history lectures on their campuses.
John grew up in Duncan and graduated from Duncan High School. While in college, he worked as a reporter, sports writer, and Sports Editor for the Duncan Banner, the daily newspaper. He earned a Bachelor's Degree in journalism from the University of Oklahoma and has done post-graduate studies in history there. He holds a Masters Degree from Dallas Theological Seminary.
He lives in Norman with his wife of 24 years, Grace, and their daughter Katie. John has mentored at-risk young men for many years and leads a mentoring program for children of low-income families through his church. His favorite hobbies are spending time with his family, brisk walks with his dog Sadie while listening to audio history books, and reading the history from which his own books flow.