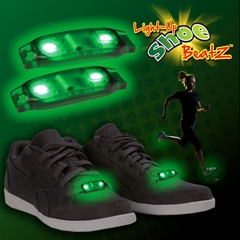 This product is a LED shoe add-on that lights up to the vibration of each step, just like the infamous light up sneakers.
Chicago, IL (PRWEB) March 13, 2013
Ever since the 1980's, kids have been proudly parading around in their light-up sneakers. Parents however haven't been too fond of buying multiple pairs of gym shoes, one with and without lights. Windy City Novelties has come up with the perfect solution for never overpaying on footwear - Shoe Beatz.
Shoe Beatz is not only one of Windy City Novelties newest products, but it is also an already predicted best seller for families, performers and runners alike. This product is a LED shoe add-on that lights up to the vibration of each step, just like the infamous light up sneakers. However, now you have the ability to transfer the lights between old and new shoes, gym shoes, dress shoes and dance shoes.
Parents will be heaven when shopping with their kids for new shoes. Instead of the multiple pairs of shoes, they can stick to buying one pair of sneakers for each child and the little ones will be thrilled they are able to choose their own set of Shoe Beatz in the colors they desire, like the green shoe beatz, pink, red, blue and white.
Shoe Beatz, like finger lights, will soon be in the limelight as well. LED's have been made popular by musical artists, dancers and other performers over the years and continue to have a strong influence on their audience. Just like how finger lights have recently been used in movies, Beyonce's performance at the 2013 Super Bowl and many other events, Shoe Beatz will be hitting the stages and covering the public's shoes in the near future.
Another group of people these will become quickly popular with are the runners. Many people have day jobs and are forced to do their workouts in the early mornings or late evenings when it's dark out. Shoe Beatz will become very handy when it comes to safety. Now cars will be able to see exactly where the runners are traveling.
Shoe Beatz, unlike light up shoes, have lifetime batteries and if they ever do die, then Windy City Novelties will take back the dead ones and ship out a new pair. Shoe Beatz are now available online at http://www.windycitynovelties.com.
For tips, advice, questions or for help planning your next event, email our party experts.
About Windy City Novelties
Windy City Novelties, a party supply company founded in 1983, is known for their great selection and competitively priced items. They have an A+ rating from the Better Business Bureau and are also a NexTag 5 star Seller. From their website, windycitynovelties.com, they offer fast and friendly shipping along with great customer service. From glow sticks in every color of the rainbow, to party decorations in a variety of themes, and even a vast selection of Halloween costumes at the best prices, Windy City Novelties has over 15,000 products and adds more each week. Windy City Novelties also provides party and gift ideas and advice. For help or more suggestions, email our experts.