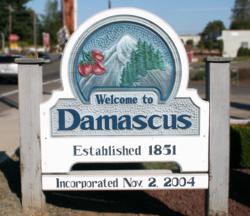 Damascus, OR (PRWEB) March 13, 2013
How will the Transportation System change in the future to accommodate an increase in traffic?
As Damascus grows, Hwy 212 will need to be improved to accommodate the increase in traffic. What is the best way to improve Hwy 212, especially where it travels through the town center?
Should it be expanded to 5 lanes?
What about a couplet design that routes west bound traffic onto a new one-way section of the highway to be built south of the current town center, leaving the current highway for east bound traffic?
Are there other options?
Some factors to consider when thinking about design:
What will the effect be on property owners?
How will this impact economic development?
How will this affect Traffic patterns?
What are the costs?
What are the Ingress and Egress issues?
Residents of the city of Damascus are invited to a Town Hall at Sunnyside Community Church on Saturday, March 16, 2013, from 1:00 p.m. to 3:00 p.m. to review the ideas generated from citizen comments at the previous Transportation Planning Town Hall held February 2nd. The meeting will be hosted by the Damascus Committee for Citizen Involvement and city staff with a series of stations set up so that specific questions can be answered and more detailed input can be gained from the citizens.
Steve Gaschler, Public Works Director, says, "This Town Hall is about bringing back the ideas generated in the first Town Hall as fleshed out concepts to present to the community and get more input. The Transportation Committee, Planning Commission, and Staff will take that input and use it to formulate elements of the Transportation System Plan. The next step in the process is for the maps to move forward to the City Council for consideration and inclusion into the Comprehensive Plan."
The meeting will be the 10th in a series of regular Town Hall meetings as the city moves forward in the Comprehensive Plan development process.
The purpose of comprehensive plans is to coordinate the harmonious development of cities to meet present and future needs, making wise use of resources in order to promote the health, safety, and welfare of the citizens. The City encourages all of the citizens of Damascus to come have their questions concerning the transportation elements of the proposed Comprehensive Plan answered and have their voices heard in this vital step in moving the Comprehensive Plan forward.
The Town Hall meeting will be:
Saturday, March 16, 2013
1:00 p.m. - 3:00 p.m.
Sunnyside Community Church, 16444 SE Hwy 212, Damascus
Future Town Halls:
April 6 – Development Code and Zoning Map
April 27 – Comprehensive Plan and Development Code
Public Hearings on the draft Comprehensive Plan, Development Code, Public Facility Plan, and Transportation System Plan will be held in May and June. It is anticipated the draft plans will be on the November 2013 election ballot for citizen approval.