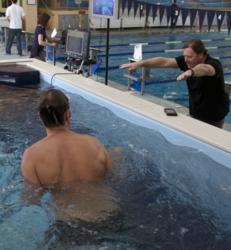 The opportunity to contain swimmers in the Endless Pool so that they can work on the micro and macro parts of their stroke will help us maximize time.
Philadelphia, PA (PRWEB) March 12, 2013
Friends Central Aquatic swim coach Iain Anderson was able to break in the school's new Elite Model Endless Pool with some assistance from acclaimed swim teacher Glenn Mills.
On Saturday, Anderson and his FCA Phoenix swim team welcomed Mills for drill and video instruction, while learning how their innovative new pool could make them smarter, faster swimmers.
Coach Mills and Coach Anderson worked with several FCA swimmers to fine-tune their technique, using underwater cameras, as well as underwater and overhead mirrors to assist their training.
"We want to be able to expose kids to seeing themselves evaluated and deconstructed," said Anderson. "Learning how to process changes afterwards will be invaluable."
Mills, a qualifier for the 1980 Olympics and a Congressional Gold Medal winner, as well as the Masters world record holder in two breaststroke events, offered invaluable advice to each swimmer.
The coach has taught swimming in an Endless Pool for over 12 years, and believes that the swim current provides the ideal static environment for teaching anyone, from beginners to elite level athletes how to swim with improved technique.
"I can generally tell whether a swimmer is 'getting it' or not in just one stroke cycle," said Mills. It might take 15 or 20 stroke cycles to complete a lap of the pool. This means a lot of valuable teaching time is lost in a standard pool, and the swimmer is often practicing incorrectly for an entire lap. Not so with the Endless Pool."
Anderson echoed Mills' excitement after watching the quick adjustments made possible by the instant feedback of the Endless Pool.
"The opportunity to contain swimmers in the Endless Pool so that they can work on the micro and macro parts of their stroke will help us maximize time," said Anderson. "We'll get to do a lot more one on one instruction."
The FCA boys program, which has earned 10 consecutive league titles, and the girls, who have captured 8 straight league championships, intend to compete at an even higher level going forward.
The groundwork has been laid by Anderson, and with the success of collegiate programs such as Auburn, Harvard, Dartmouth, and Indiana that have incorporated the Endless Pool Elite in their training, FCA should be able to create even further separation from the high school competition.
ABOUT ENDLESS POOLS:
Endless Pools, established in 1988, has served over 20,000 customers in over 80 countries, and offers compact, customizable pools for indoor or outdoor use. Their professional level Elite Model provides a sub :50/100 yard pace for the fastest swimmers. With a series of innovative, customizable products, the company has completed commercial installations around the world for swimming, exercise and therapy use. Rigorously tested for safety, low-maintenance and environmentally friendly, Endless Pools has a product to meet virtually any need.
For more information, visit http://www.endlesspools.com or contact Rob Shaeffer at 610-497-8676.