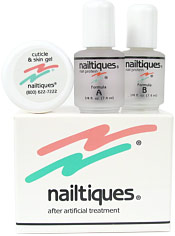 We always learn so much from our customers! At the moment we are using their valuable feedback via the social media platforms to formulate plans for the future of eNail Supply
(PRWEB) March 14, 2013
eNail Supply are the popular and increasingly busy online retailer supplying the world's top beauty brands to industry professionals and domestic customers. The massive range of beauty products for hands, feet and nails is legendary amongst their loyal customer base. This is all information and feedback the company have received via their social media platforms.
The company, who are on Facebook and Twitter and regularly post video beauty tutorials have been enjoying increased communication and engagement with their customers in these online social settings. Their social media manager and team have been talking to customers to find out what they think of the eNail Supply service and asking customers what their favourite brands are at the moment.
Top favorites, according to social media feedback are Gelish Hand & Nail Honey Girl, Rejuvacote, Nailtiques and the company's amazingly diverse range of colorful nail art decals. All of these products have been highlighted by customers as not only being their favorites, but available to them at extremely reasonable prices. And it seems the company's happy customers didn't stop there with their praise.
Customers have been using the social media platforms, especially Facebook and the video tutorials to really understand how to get the best from the products they buy. The appreciate that eNail Supply is run by knowledgeable beauty professionals who understand their industry and their needs. From trending colors and shades to new nail art technology, customers are reporting that they always get excellent advice, guidance and information from eNail Supply.
CEO of eNail Supply, Mr Sudeep Arya told us, "We always learn so much from our customers! At the moment we are using their valuable feedback via the social media platforms to formulate plans for the future of eNail Supply. We are a company who does not stand still. We want to continue to grow and prosper. It is because of feedback from Facebook, for example, that we recently offered discounts on our range of nail art decals and Gelish hand & nail honeygirl. It was an extremely popular move amongst our regular customers. The next two top selling brands to enjoy discounts were Rejuvacote and Nailtiques. They were chosen by our customers themselves!"
The eNail Supply management team have found their social media communications invaluable as a means of reaching out to their customers and establishing their needs and desires within the beauty industry.
It is no surprise, when they put such high value on what their customers say and think, that the company continues to grow in popularity and revenue sales.
About us
eNail Supply supplies professional and salon-quality beauty products for the hands, feet and nails. It stocks a huge rand of brands including Gelish Hand & Nail Honey Girl, nail art decals, Rejuvacote and Nailtiques, for shipping worldwide. eNail Supply supplies to licensed nail technician, aesthetician, depilatory professionals and beauty consultants as well as regular shoppers. It offers worldwide delivery and complimentary help and advice from a team of qualified technicians. Detailed information about discounted products can be found on the website.