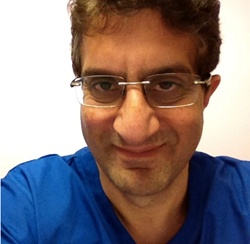 The Stamp Out Illegal Tooth Whitening Campaign is out there trying to educate the public that tooth whitening should only be provided in a dental practice and that it is illegal and unsafe if provided by anyone else
(PRWEB) March 17, 2013
Leading Manchester dentist Tariq Drabu the owner of Langley Dental Practice in Middleton, Manchester has today welcomed the latest campaign to eradicate the illegal practice of tooth whitening by non-dental registrants. He was speaking after lending his support to a Facebook campaign under the banner "Stamp Out Illegal Tooth Whitening." Details of the campaign can be found here. The campaign was only started last month and already has nearly 1500 likes on Facebook. Speaking about his decision to support the campaign Tariq Drabu said "these are difficult financial times and therefore many people are looking at trying to find ways of maximising or supplementing their income. If you search the internet you can find lots of companies offering franchise opportunities for tooth whitening and on the surface this can seem like a perfectly legal way of making extra money. However the General Dental Council (GDC), the organisation which regulates dental professionals and is responsible for protecting the UK public clearly states that applying materials to teeth and carrying out procedures that are supposed to improve the appearance of teeth and also giving clinical advice about these matters is actually the practice of dentistry. The GDC state that this should only be undertaken by dentists or dental hygienists/therapists working to a dentist's prescription. I support the GDC in its view that the carrying out of dentistry by individuals not registered with them is a criminal offence."
Tariq Drabu continued "The Stamp Out Illegal Tooth Whitening Campaign is out there trying to educate the public that tooth whitening should only be provided in a dental practice and that it is illegal and unsafe if provided by anyone else. The people providing this treatment are painting a picture of greedy dentists ripping off the public. There is no mention of qualifications, training, standards or cross infection control. At Langley Dental Practice we are fully insured and have the highest standards of cross infection control with our instruments autoclaved (sterilised) in accordance with recognised national standards. Initial assessment and treatment is carried out by a UK trained dentist. Our premises have been inspected by the Care Quality Commission, the regulator for health care in England. If I worked out of the back of a car as some illegal tooth whiteners do or in a converted garage with no regard for standards I could offer treatments at unrealistically cheap prices. However even with all our regulatory standards our tooth whitening at Langley Dental Practice is just £199."
Tariq Drabu went on to say "people should be asking questions to the teeth whitening technicians such as:
1. What standards of cross infection control do you work to - do you autoclave and sterilise the instruments that you put in patients mouths (like dentists are obliged to do) to government regulated standards?
2. Where are your dedicated cross infection facilities?
3. What do you do with your clinical waste (i.e. the stuff that actually goes in patients' mouths)? Do you just throw it in the bin?
4. If you just throw it into the rubbish bin did you know that this is illegal?
5. If you advertise "laser tooth whitening" are you compliant with "Essential Standards for
Class 3b and Class 4 Lasers" as advised by the Independent Healthcare Advisory Service.....or are you just really using a blue light and not a laser?
Tariq Drabu said "these are critically important questions to ask and get clarity on. Why risk your body and health? If the answers to the first four questions draw a draw an inadequate response then you are having treatment done from somebody who is putting your health at risk. As regards question 4 I've yet to come across anybody who actually uses a laser to whiten teeth so this is simply false advertising."
Tariq Drabu added "the public needs to be aware that unlike tooth whitening technicians, we work to the best standards in a safe, controlled and predictable manner, always putting the patients' interests first and using the most up to date materials and highest standards of cross infection control. Our practice has to comply with and has met stringent regulations enforced by the Care Quality Commission (CQC) in terms of patient safety and quality of care. We also have to provide high standards and meet tough requirements in terms of clinical waste disposal and environmental regulations. All of these regulations carry a financial cost. Yet in spite of all these regulations we are able to offer tooth whitening at just £199. None of these so-called tooth whitening companies have anything like the same level of regulation and scrutiny attached to them.
Tariq Drabu concluded "in fact in many cases they work with no regulation or scrutiny whatsoever. Regrettably the nature of this problem is so widespread that we need serious action from law makers and Trading Standards. Only strong affirmative direct action and campaigns such as this will lead to results."