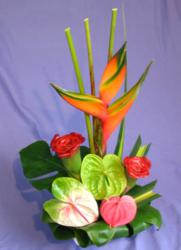 Constant Contact allows us to support customer relationships and engagement through email and social media
Honolulu, HI (PRWEB) March 13, 2013
With Our Aloha Hawaiian flowers and gifts has received the 2012 All Star Award from Constant Contact®, Inc., the trusted marketing advisor to more than half a million small organizations worldwide. Each year, Constant Contact bestows the All Star Award to a select group of businesses and nonprofits who are successfully leveraging online marketing tools to engage their customer base, and drive success for their organization. With Our Aloha's results ranked among the top 10% of Constant Contact's international customer base.
"We rely on Constant Contact to help us maintain a channel of communication with our customers," said Frank MacMillan, owner of the company. "Constant Contact allows us to support customer relationships and engagement through email and social media. We are honored to have those efforts independently recognized by the top provider in that area."
With Our Aloha sends fresh Hawaiian flowers, leis, blooming orchids and gifts primarily to the US mainland. Specialties include wedding flowers and corporate gift baskets. With Our Aloha is one of the few remaining lei makers in Hawaii to use only Hawaiian grown flowers at a time when most companies rely on cheap imported flowers from Thailand.
About With Our Aloha
Since 2000, With Our Aloha has provided fresh, locally grown Hawaiian tropical flowers, leis, wedding bouquets, protea baskets as well as gift baskets made with locally produced items. The company serves all 50 US states with a freshness guarantee on all flowers.
About Constant Contact®, Inc.
Constant Contact wrote the book on Engagement Marketing™ – the new marketing success formula that helps small organizations create and grow customer relationships in today's socially connected world. More than half a million small businesses, nonprofits and associations worldwide use the company's online marketing tools to generate new customers, repeat business, and referrals through email marketing, social media marketing, event marketing, local deals, digital storefronts, and online surveys. Only Constant Contact offers the proven combination of affordable tools and free KnowHow®, including local seminars, personal coaching and award-winning product support. The company further supports small organizations through its extensive network of consultants/resellers, technology providers, franchises and national associations.
Constant Contact and the Constant Contact Logo are registered trademarks of Constant Contact, Inc. All Constant Contact product names and other brand names mentioned herein are trademarks or registered trademarks of Constant Contact, Inc. All other company and product names may be trademarks or service marks of their respective owners.