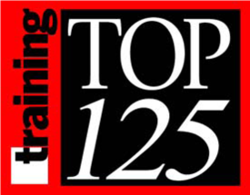 We are honored to be recognized for the fourth year in a row and to be in the same category with nationally known organizations.
Dayton, OH (PRWEB) March 12, 2013
CareSource, a public-sector managed care company, was recognized for a fourth year in a row as one of Training magazine's Top 125 companies that excel at staff development and training.
CareSource, listed at #15 on the Top 125 list, joins the ranks of some of the nation's largest and most successful organizations including Jiffy Lube International, Farmers Insurance and Edward Jones. CareSource University (CSU) was honored at the awards gala held February 18 at the Training 2013 Conference & Expo in Orlando, Florida. The past three years, CareSource has ranked in the top 15.
"We are deeply committed to developing our employees with break-through approaches in our training and development programs through CSU," said Pamela Morris, President and CEO. "Attracting and retaining a highly engaged and talented workforce is critical to supporting our strategic initiatives."
With choices from more than 500 curriculum offerings, CareSource University provides a full-service career planning and development resource to all employees, including clinical licensure programs, new employee training, leadership and career development and coaching.
"We are honored to be recognized for the fourth year in a row and to be in the same category with nationally known organizations," Jaclyn Smith, Vice President of CareSource University, stated. "In 2012, we increased employment by 55%. To support this rapid and projected growth, we need a strong foundation of leaders."
An employee expressed the importance of ongoing training and development.
"The leadership program was exceptional. I realized my potential and the importance to grow professionally," Christopher Sanford, Information Technology, explained. "CSU's development programs are relevant, accessible and extremely rewarding."
Training magazine selects 125 global and national organizations annually that exhibit best training practices, evaluation methods and outstanding training initiatives. Honorees range in size from Fortune 500 companies to smaller organizations of 100 plus employees. Judging is based upon elements such as scope of development programs, financial investment in employee development, and how closely training efforts are linked to business goals and objectives.
"We look forward to continuing to train our employees in a way that is innovative, personalized and immediately applicable to our organizational objectives," Smith added.
Top twenty award winners:
1. Verizon
2. Jiffy Lube International
3. Coldwell Banker Real Estate
4. Farmers Insurance
5. CHG Healthcare Services
6. McCarthy Building Companies, Inc.
7. The PNC Financial Services Group, Inc.
8. Mohawk Industries, Inc.
9. American Infrastructure
10. Capital BlueCross
11. Blue Cross Blue Shield of Michigan
12. Edward Jones
13. Wequassett Resort and Golf Club
14. BB&T Corporation (BB&T)
15. CareSource
16. Automatic Data Processing, Inc.
17. DPR Construction
18. Health Care Service Corporation
19. Economical Insurance
20. Capital One
About Training magazine
Training magazine is the leading business publication for learning and development and HR professionals. It has been the ultimate resource for innovative learning and development—in print, in person, and online—over the last 49 years. Training magazine and Training magazine Events are produced by Lakewood Media Group.
About CareSource
CareSource is a non-profit health plan headquartered in Dayton, Ohio. As one of the largest Medicaid managed care plan in the country, CareSource understands the challenges consumers face navigating the health system. We are committed to putting health care within reach for approximately 900,000 members we serve in Ohio and Kentucky. For more information go to http://www.caresource.com.
###