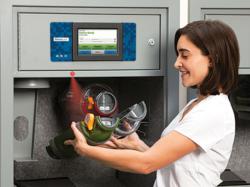 Pevco Link was designed to make nurses' jobs easier so they can spend more time with patients.
Baltimore, MD (PRWEB) March 14, 2013
Pevco, a U.S. manufacturer focused exclusively on pneumatic tube systems (PTS) for hospitals, today announced that it will demonstrate its new medication and specimen tracking technology, Pevco Link™, at the American Organization of Nurse Executives (AONE) annual conference and exhibition next week in Denver.
Pevco Link is a tablet-like touch control for PTS stations. It provides intuitive functions, an easy-to-read color display and a built-in directory of PTS station addresses. With Pevco Link, nurses can easily and securely send specimens, blood products and pharmaceuticals through the pneumatic tube system. The touch control's bright, contrasting graphics and large keys make it easy to complete a transaction with confidence.
With its integrated barcode reader, Pevco Link lets nurses track the contents of any carrier sent through the system. Nurses know exactly what item was sent, when it left the station, when it arrived and who received it. Individual transaction details are easily accessed at the PTS station using the touch control or complete transaction records are available through a secure web application.
"Our product development efforts are focused on improving the operational efficiency of our hospital clients and helping them deliver better patient care," said Steve Dahl, director of product development and marketing at Pevco. "With its easy-to-use materials tracking capability, Pevco Link was designed to make nurses' jobs easier so they can spend more time with patients."
Pevco Link will become standard equipment on all new PTS stations leaving the Pevco factory in the third quarter of 2013. It can also be retrofitted to existing Pevco and other leading manufacturers' pneumatic tube systems one station at a time or as part of a complete system upgrade.
The AONE conference runs March 20–23 at the Colorado Convention Center in Denver. A first-time exhibitor, Pevco will showcase its pneumatic tube system, including Pevco Link, in booth #1020.
About Pevco
Pevco designs, manufactures, installs and supports hospital pneumatic tube systems that enable healthcare professionals to quickly, safely and reliably transport patient-critical materials between labs, pharmacies, blood banks, ORs, EDs and nursing stations. Used by more than 600 leading hospitals, Pevco's flexible, intelligent products consistently reduce operating costs and are compatible with all competing pneumatic tube systems. Pevco was founded in 1978 and is headquartered in Baltimore, with support staff positioned throughout North America. To learn more, visit http://www.pevco.com.
About AONE
The American Organization of Nurse Executives (AONE) is the national organization of nurses who design, facilitate and manage care. Since 1967, the organization has provided leadership, professional development, advocacy and research to advance nursing practice and patient care, promote nursing leadership excellence and shape public policy for health care. AONE's 48 affiliated state and metropolitan chapters give the organization's initiatives a regional and local presence. AONE is a subsidiary of the American Hospital Association. To learn more, visit http://www.aone.org.