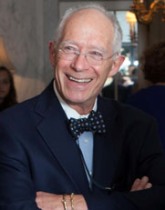 "I am so delighted to be able to work with one of the icons of integrative medicine," said Mark McClure D.D.S., biological dentist at NIHA.
Washington, D.C. (PRWEB) March 25, 2013
National Integrated Health Associates (NIHA) welcomes Warren M. Levin M.D. to the integrative medical and dental center. Dr. Levin brings significant experience as a true Pioneer in the field, having established the first alternative and integrative medical practice in New York City in 1974. He has multiple board certifications.
Dr. Levin may be best known for his 14-year legal battle against the New York State Office of Professional Medical Conduct. The victory led to the passage of the NY State Alternative Medical Practice Act, signed by then Governor Mario Cuomo. Dr. Levin has continued to fight for the rights of physicians throughout the country to provide quality care to their patients and for patients to seek integrative and complementary therapies.
Dr. Levin is also known for his innovative reporting of relationships among many hard to treat syndromes. He was one of the first to document the connection of Candida (Yeast) infections with Fibromyalgia, Chronic Fatigue Syndrome, Autistic Spectrum Disorders, Multiple Chemical Sensitivities and most recently with refractory Lyme disease. He has been a leader in treating Autism, Asperger's, ADD/ADHD, and learning disabilities with avoidance of allergenic foods, environments, and toxins, as well as via correcting metabolic imbalances and infections.
Dr. Levin is committed to providing to his patients innovative medical services and therapies offered at NIHA that may not be readily available elsewhere. With knowledge of these treatment options, a patient is able to make an informed choice. Dr. Levin's experience in treating Lyme disease and other tick-borne infections is needed in our local region where Lyme disease has affected so much of the population.
Mark McClure, biological dentist and co-founder of National Integrated Health Associates said, "I am so delighted to be able to work with one of the icons of Integrative Medicine. My patients and I can learn a great deal from him. Dr. Levin's experience, knowledge and mannerism are exemplary. In addition, he is a kind and warm individual. "
Dr. Levin is now accepting new patients. He specializes in the treatment of Lyme disease, Autism, thyroid and other hormonal issues, Candida (yeast), "Diabesity", anti-aging medicine and hard-to-diagnose chronic illnesses.
About National Integrated Health Associates
National Integrated Health Associates, NIHA, is a leading integrative medicine and dental center serving the Washington D.C., Maryland, and Virginia metropolitan area. Integrative doctors and biological dentists blend the best of traditional medicine and integrative medical therapies to help the body heal and achieve optimum wellness. http://www.nihadc.com